Dear readers. It is certainly a special period that calls for all of us, workers and businesses alike, to adapt to new circumstances.
If you are in a phase job search or career change, then you are in a very different situation compared to someone who was looking for a job a month ago. The fact is that unrivalled economic uncertainty has been created. While it is true that many companies have frozen hiring and others are downsizing, some industries are ramping up their efforts to fill critical positions.
So, it is worth to continue the effort, with patience and the right strategy. Below are some useful tips that can help you:
Give your network a foundation
Now is the time to tap into your professional network. The LinkedIn has more than 500 million users and many recruiters use this platform to find new talent, so make sure your profile is updated frequently. Networking with professionals in your field of interest can provide opportunities you may not have considered. Also posting ideas, articles, etc. gives you a better chance of attracting your target audience - especially for recruiters.
>> Read more: All Star LinkedIn Tips for job search <<
Remember that job ads are only 10-20% of the actual open positions. In reality most available jobs are directly related to networking. If you want to look for alternative ways to find jobs, download our guide for free!
Focus on your professional development
Under normal circumstances, daily routines and travel often interfere with the achievement of new learning and development goals. Now is the ideal time to explore your interests and pursue potential growth opportunities.
With schools and offices closed, e-learning is taking off. Prioritise the online courses you've been putting off and learn new skills as much as possible. In addition, consider earning professional certifications. Below are the most popular platforms to develop technical and personal skills (soft & hard skills).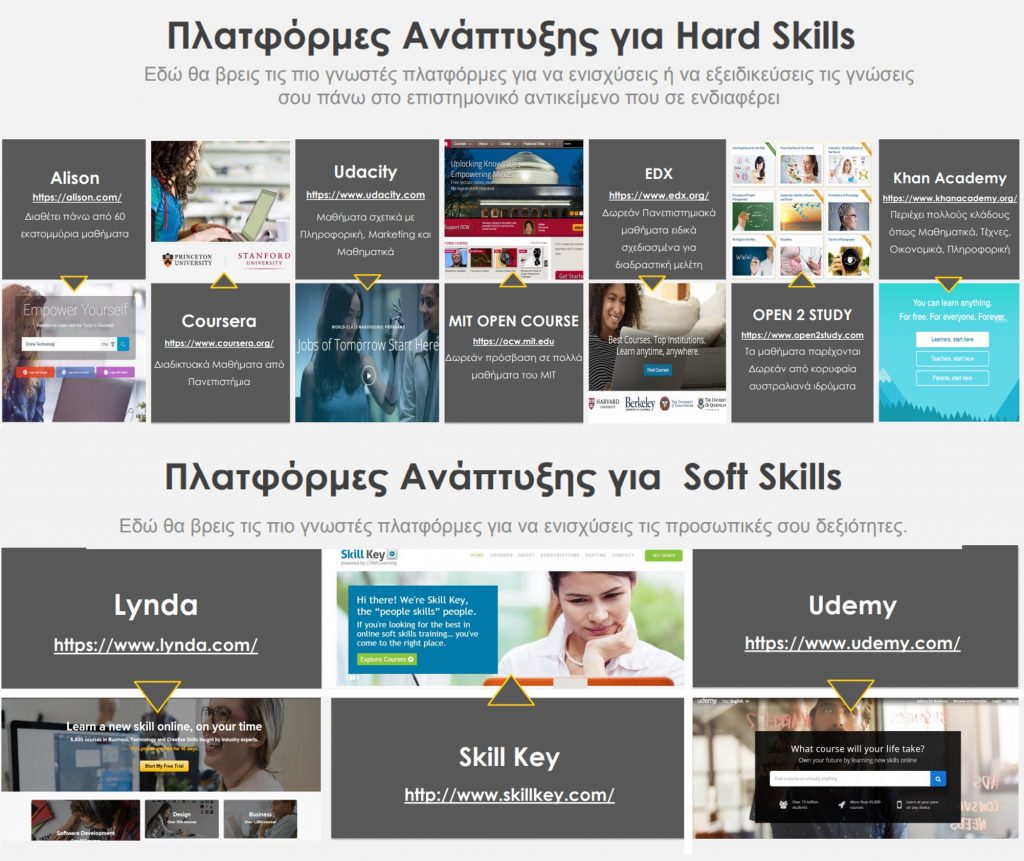 Get ready to apply for new jobs
This is the time and space to increase your chances of getting a good job by focusing on preparing your applications properly. Start by dusting off your resume, learn about how you can design a competitive CV or contact professional advisors.
Study the critical questions at the interview stage and practise on them. Start doing phone interviews even if you are not actively looking for a new job. Conversations with recruiters will help you hone this essential skill and answer some key questions: Why are you looking for a new role? Why do you think you are the right person? Say something about yourself that isn't on your resume. Start your preparation by reading "6+1 secrets to stand out in your next interview" and be sure to find out how we respond to "Distance interviews".
Finally, it would be a good idea to practice video interviews, which attracted the interest of companies even before the coronavirus crisis. Analyze your posture, eye contact, tone of voice, sound and quality of lighting and background - all the details necessary to create a more conducive environment.
Set your daily routine right
According to the new data, the truth is that the companies' 88% encourages working from home in response to the coronavirus epidemic. Although telecommuting was growing steadily before the outbreak, embracing remote work is no longer an option but a necessity.
Working from home is a skill in itself and while the length of this period is unknown, it is important to remain productive. Therefore, take care of your day as you would if you were going into the office, maintain your regular hours, create a dedicated space for your work, set ground rules with family members, schedule your breaks and try to stay consistent.
In future interviews you may be asked about your experience of working remotely. This is your chance to demonstrate specific things you have achieved from the comfort of your couch. So you'll have another valuable skill to add to your resume.
During this trial period, it helps to remember that the labour market goes in cycles. Above all, keeping a positive outlook and focusing on our strengths will give us strength for the future. Rest assured. In time, this too will pass.
More articles in "Job Search":
– 8 Ways to Find a Job in 2020
– 6 job search mistakes and how to avoid them
– Survivor Guide to Surviving the Job Market
– Discover the hidden labour market yourself

Related material:
– Career Change Guide (eBook)
– Survival Guide to the Labour Market (eBook)
– 8 ways to get a job today (eBook)

Related services:
– Job Search Techniques
– Self-Awareness Program (Ikigai)
– Professional Identity Enhancement Service
– Individual Counselling Sessions Service
– Interview Preparation Service
Career Counsellor / Career Guidance
Member of the Greek Association of Consulting, Coaching & Mentoring-HCCMA
After completing my studies in Political Science and Public Administration at the University of Athens, I attended seminars in Customer Service, Public Relations and Sales in order to add more value to the services I offer. In recent years,I started a new chapter in my life through Life Coaching and Career Counseling and my Vision is to help people have a successful career path combined with balance in their personal life.