The CV tells the most important stories of your life on a personal and especially professional level. As a young person in the job market, you are called upon to structure these stories properly, whether they come from your personal life or from your academic or professional career, in order to be able to design your CV.
But a structured CV no longer guarantees your success!
You know yourself that competition is very high and jobs are limited. It would not be an exaggeration to say that for a 1 job position 300-2,000 people can send their CVs. So it's interesting to see how you can be the person who stands out early on to make a stronger claim for the job you want.
Let's take a look at 6 secrets that really make a difference!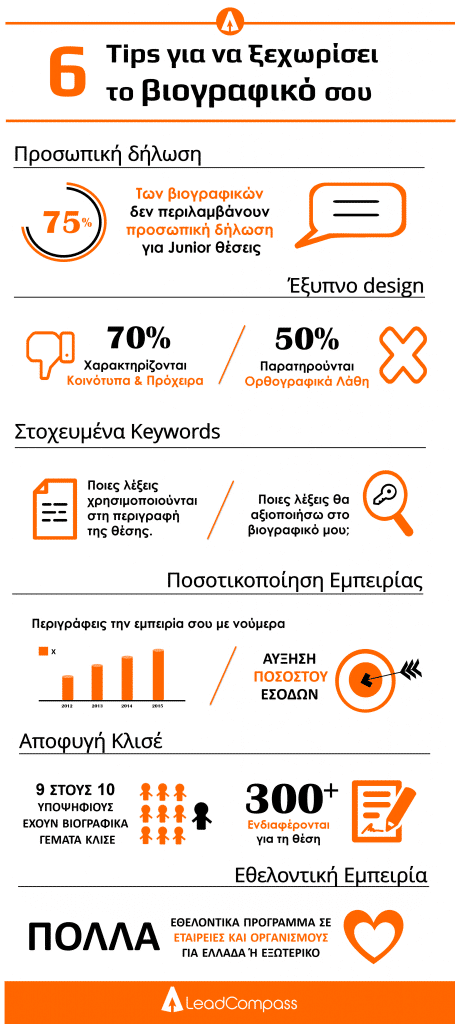 1. Start with a personal statement
If you could advertise yourself in one paragraph what would it be? This is the question you need to answer to write your personal statement. If you find it difficult, you can more simply come up with a structure by answering the following three questions:
α) What are the skills that set you apart from the rest and make you an ideal candidate for the job?
b) What is your professional goal?
c) Why did you choose this company - position and how will you contribute to it?
2. The design of the CV is key. Make your CV look good!
How to make a CV; Follow the advice below:
α) Elegant and functional design. You don't have to use a lot of colours to make a difference. Instead, go for safer colours like black, blue, grey, grey, white. I recommend you to avoid the Europass resume template because it doesn't meet your needs in most cases. Europass is unfortunately a very common choice by thousands of young people for any position. Probably that's why 70% of resumes are labeled as banal and sloppy.
b) Do not exceed 2 pages. You don't have to write the story of your life to convince an employer that you are worthy. "To laconize is to philosophize," the ancients said, and they were right. Try to be substantive and break the resume into bullet points.
c) Watch out for syntax or worse, spelling mistakes. Believe it or not over 50% of resumes have spelling errors.
3. Use keywords (keywords)
Each job comes with a job description that basically tells you in a nutshell what they are looking for from you. Read the position thoroughly and make sure you use the keywords you have noted by highlighting them through your experience.
4. Mathematics will always chase you. Put numbers where you can!
To be able to convince an employer, you first need to quantify your experience. For example, instead of writing in your achievements that you simply increased sales at the company you worked for, you can say that you increased 70% sales over a 6-month period. Remember that quantitative data is more understandable than qualitative data.
5. Clichés certainly don't help you.
A very common mistake seen in the 90% of CVs is the well-known clichés used by young people. The purpose of the resume is to stand out to get through to the interview phase. If the employer sees phrases like: excellent communication skills, collaborative and team player, enthusiastic and passionate, and I work under pressure every time, it won't help you make a difference.
'Competitive CVs are judged not by the abundance of skills but by their uniqueness compared to other candidates'
6. Volunteering makes a difference.
I couldn't resist mentioning your ongoing problem!
"How can I get a job when they ask for 2 years of work experience?"
That's a good excuse, but as an employer, the next question I'm going to ask is: "how can I trust a young person who has no work culture or hasn't practiced their profession at all?"
In 2017 the opportunities to gain experience are more than you think. Volunteer programs and internships run continuously throughout the year from many organizations and companies in Greece and abroad. Think twice about how you make the most of your time during your student life or even afterwards.
These secrets are the beginning of learning to build a competitive CV template that stands out. I hope I've answered some of your questions, but you probably have more!
Feel free to leave your comment below so I can help you with your concerns.
Keep reading:
– Catastrophic mistakes you make on your CV that are automatically rejected
– 5 CV mistakes they never told you
– Diamond, the resume template that Mr.crawls jobs
Free Online Seminar: – The Secrets to the Ideal CV (webinar)
Related services: – CV writing service – CV Translation Service – CV Evaluation Service