In this article you will find everything you need to know about the English CV:
when it is best to send such a CV and why,
which keywords can catch the employer's attention and help you win an interview,
what useful tips are good to apply, and
example of a well-written CV in English.
Compilation of a resume price: You want a resume? Leave it to us. Hire a qualified consultant!
When do you send an English CV and why?

It is necessary to send an English CV when the job advertisement mentions it or when you choose to find a job in a country other than Greece.
In particular, to help you remember when to send your CV in English, all you need to know is:
"When an advertisement is in English, it means I have to send my CV in English."
If you're looking for a job abroad, you'll need to look for information on how to tailor your CV to be competitive in the country you want to work in.
It is possible that some information may not need to be mentioned or you may need to include some more documents with your CV. Sending your resume at the right time is critical to maximize its effectiveness.
When you apply for a job, it's a good idea to send your CV within 1 to 5 days after the publication of the job advertisement. This ensures that your application will be among the first to be considered.
How to make a resume:  Complete Guide to Creating a CV
Use keywords - use keywords
Verbs, words and phrases play a key role in making your CV stand out.
It is very important to read the job advertisement several times and then to underline the keywords you'll need to include on your resume.
Use keywords that are relevant to your industry to be identified by the automated application tracking systems (ATS) used by many companies and get your CV through to the next stage.
The key words are often a specific degree, some personal or technical skills, qualifications and knowledge from the job description and minimum experience.
Your goal is to use this information and include in your CV any keywords you have without reporting inaccurate or untrue data.
Choose the right verbs - action
In many sections of your English CV you will need to describe some tasks or experiences that you think are relevant to the position you are applying for.
Usually, the areas that require further description are education, work experience and volunteer experience.
In these fields remember that we use action verbs and not just nouns to describe an experience. In addition, it is recommended to use the simple past tense when describing.
So if you want to write, for example, that you were responsible for developing and maintaining trusting relationships with customers, in English it would translate as "Developed and maintained trusting relationships with more than 100 customers".
Below we have listed the 60 most useful action verbs you can use on your CV. Try to choose the most appropriate ones to best describe your experiences and highlight your qualifications and skills.
A. Educational and Communication:
I teach (lecture)
To instruct (instruct/teach)
Publish (publish)
I participate (participate)
I represent (represent)
Collaborate (collaborate)
Negotiate (negotiate)
I advise (advise)
Guide (guide)
B. Management and Administration:
Administer (administer)
Organize (organize)
Coordinate (coordinate)
Oversee (oversee)
Plan (plan)
Catalogue (catalogue)
Classify (classify)
Compile (compile)
Dispatch (dispatch)
Execute (execute)
Archive (file)
Monitor (monitor)
Order (order)
Organize (organize)
Prepare
Launch (launch)
C. Creative and Innovative:
Develop (develop)
Design (design)
Structure (structure)
Create (create)
Integrate (integrate)
Streamline (streamline)
Expand (expand)
D. Analytical and Technical:
Analyze (analyze)
Program (programme)
Extract (extract)
Systemize (systemize)
Structure (structure)
E. Evaluation and Improvement:
Evaluate (evaluate)
Adapt (adapt)
Streamline (streamline)
Reduce (reduce)
I fix (achieve)

Customize the communication module
In the English CV it is necessary to make adjustments to your contact details, as you do not know who will evaluate it and in which country the evaluator is located.
In particular, to make sure they can contact you, make sure you put the country code of the country you are in in front of your mobile number.
For example, if you live in Greece, put +30 or 0030 in front of your mobile number. In the Netherlands it's +31, in Germany +49 and so on. Find more here country codes!
In addition, a clever trick to avoid being turned down on the spot is to put the city and country of the job in your CV when applying for a job in another country. Of course you should do this, as long as you know that you can be there at any time you are asked.
If the post is for remote work, but is posted from a country outside Greece, then it is recommended that you enter the city you live in and your country next to it.

eg Address: Thessaloniki, Greece


Mention that you know Greek
Many candidates forget to mention in their English CV that they know Greek (as their mother tongue). When your CV is in the English version, it is not taken for granted that you know Greek.
The assessor does not have to know that your full name is Greek, so you know Greek. The same applies to your residence, as living in a country does not mean that you know the language.
For this reason, always mention that Greek is your native language. In fact, many advertisements may require knowledge of Greek as a prerequisite.
Below you can find out how to describe your level of language skills in an English CV:
A1 = Basic Knowledge
A2 = Elementary Proficiency
B1 = Limited Working Proficiency
B2 = Professional Working Proficiency
C1 = Full Professional Proficiency
C2 = Native or Bilingual Proficiency
Example of a CV in English (+Image)
A well-written CV highlights your skills, experience and qualifications, creating a good image for potential employers.
Below you can see what a properly structured English CV looks like with the correct use of English content.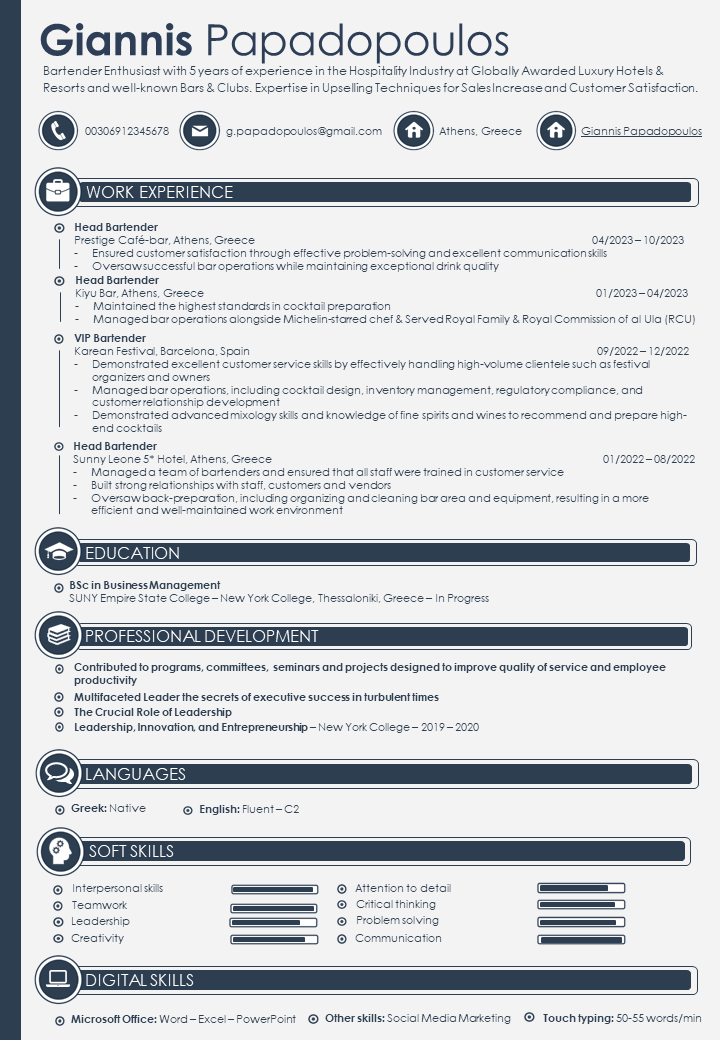 If you're looking for professional, ready-made resume templates in English, like the one above, you can find over 20 options CV templates in our eshop!

See some of our templates as an example:
Latest tips to make your CV soar
Incorporate numerical and quantitative data in your descriptions to highlight your efficiency, such as

increased sales revenue by 20%

ή

led a team of 10 people that successfully completed projects ahead of schedule

.


Apart from the action verbs mentioned above, try to choose persuasive adjectives such as innovative, adaptive, results-oriented to describe your characteristics and stand out.


The last jobs you had are the most important ones. For these experiences you listed your tasks in 3 - 10 bullet points. As you go further back chronologically in experiences reduce them to 1 - 3 bullet points.


Specifically mention the technical skills you know and don't just sum them up in categories. If the ad asks you to know excel and you put MS office knowledge on your resume, there is a chance that the ATS system will not recognize excel as a skill. Similarly, if you know Salesforce and you just put CRM or ERP, the company may use Salesforce, but not bother to ask you, resulting in them choosing another candidate who had it listed on their resume.


Try to keep your CV to 1 page. It is very competitive to be able to present all your experiences and qualifications in a well-structured 1-page CV, rather than in long and tedious CVs with multiple pages.