We are all familiar with the basic types of job interviews. However, we live in a time when many companies have either by necessity (due to COVID-19) or for reasons of cost savings and flexibility, started doing remote interviews.
If you have done job interview with an employer, you're more likely to have done the one-on-one traditional face-to-face interview or the telephone interview, right?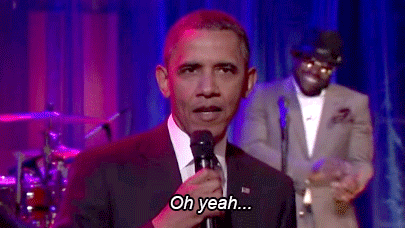 In this article we will discover all the types of job interviews we see nowadays and learn the most important tips for each one!
The latest types of job interviews we have listed below may shock you!!!

You'll find tips on what to do "before" all the interviews and what to do "after" the calls, to dramatically increase your chances of winning the job!
Let's get started!
General advice
Before I introduce you to the different types of interviews, I want you to keep the following important notes that apply to all types of interviews:
Get ready!!! Prepare your answers for every question you may be asked about your CV, your personal goals, your behaviour in different working conditions, information about the employer, the role you have applied for and the industry you are working in.

Get ready for various tests!!! Some employers will test you with some tests such as personality tests, logic, memory, perception, numerical test, speed reading and writing, reading comprehension, personal skills test, English and other languages test, computer tests such as Word, Excel and PowerPoint, emotional intelligence test, etc.
1. Telephone Interview
- It is usually the 1st interview -
It is usually done for an initial brief assessment of whether the candidate has a real chance of competing for the job and lasts 10-20 minutes, but a full interview of up to 1 hour can also take place.
The main reason it is done is to see if the employer is really interested or suited to the position or if you agree with some basic criteria for benefits or working conditions. It can also be done if the employer is in another city or country.
In general, the same advice as the video call below applies, except that the video is not present here. In this case the extra tips and differences are as follows:
Make sure you have a glass of water, a copy of your CV and notes, such as what questions to ask the interviewer
I also suggest having the LinkedIn profile photo of the person you are talking to in front of you or having a mirror and seeing yourself during the call (research shows that communication improves when you look in the mirror or the photo of the person you are talking to)
Smile, the smile "sounds" and improves our communication
Make sure you have a good signal on your phone or make sure the call is made to a landline if possible
Prefer to have headphones when talking on the phone to avoid noise and not having to hold the device during the interview
Dress normally as you would dress for a face-to-face interview, it creates a professional attitude and mindset
Although they seem basic, I have to say... Don't eat, don't chew gum and don't smoke during the interview
Many telephone interviews are delayed up to 15-30 minutes to start. There are usually other interviews taking place before you, so if one is delayed, they are all delayed. Be understanding to the interviewer and make sure your schedule has no commitments after the call so that you are available to take the call later.
Discover more: Interview Preparation Service >>
2. Video interview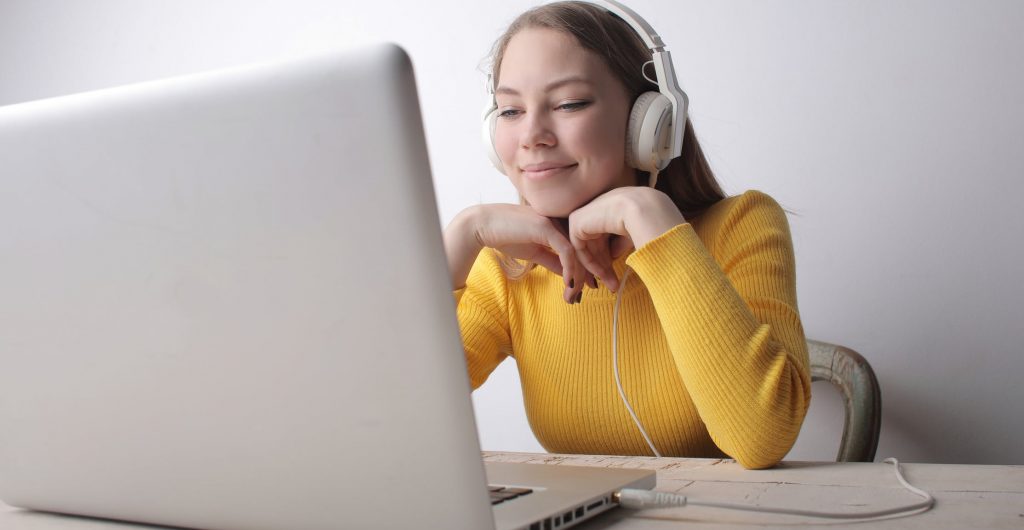 It's done with apps like Skype, Zoom, Facetime, Hangouts and WhatsApp. Video interviewing has been used abroad since 2003, but in Greece it has become more popular recently. It is also very common, especially if you have applied for a job in another city or country, but even in the same city, it can happen since both parties save time and there is more flexibility in the process.
Let's take a closer look at what you need to do for a successful video interview:
Technical Preparation - Audio Video (Sound - Image)
Have a 1080p quality webcam or better, if your device has a lower quality webcam get a better one. Remember to clean the camera lens.
Get an external microphone with a base connected to your device, not handsfree headphones, lice, etc. This way you will have excellent sound quality. Check you don't have an echo - echo in the room, rooms with stuff are usually ok, empty ones can echo.
Have a window behind your screen with good natural light or desk lamps that illuminate your face, ideally a lamp behind the left of your screen, and one behind the right of your screen or a ring lamp.
The 80-90% of candidates fail to have quality sound, picture and lighting in video calls. If you invest in the above equipment you will make a difference and win the impressions. You can purchase the above equipment over the internet at prices of 20-30 euros per device. Video call interviews are the future so it is worth the investment. Many candidates have poor quality audio that distracts the interviewer as they sound too low, or too loud, or interrupted. Something similar happens with the picture, many have poor quality camera and look blurry, or the picture is stuck, which also distracts the interviewer since they don't even see your eyes many times.
Lighting Preparation
Lighting is very important, even if the camera and sound are perfect you need the right lighting. If you have a bright window behind you or a bright lamp behind you your face will look dark, if you have a lamp above you or below you your face may glare or make shadows. So take care of the lighting as mentioned above.
Beware, if you have a window in front of you and it's cloudy outside, the lighting will change and make shadows on your face, better close the window and have a lamp behind your screen in front of you. Adjust the lamp so that the lighting is ideal, neither your face looks dark nor white from the bright light.
Have a test video call with friends, record it if you want to, to see how you look and sound, ask for feedback from your friends to tell you if anything needs improvement.
Internet and Video Calling Programs Control
Download the application if necessary (e.g. Skype) and create an account with a business name e.g. markos.korvesis (if you already have Skype with a pseudonym or change the name if possible or create a new account)
Make the video call on a computer (laptop or desktop), and have an ethernet cable for internet if possible instead of WiFi (while closing WiFi and all applications on your computer as well as any other tabs - tabs you have open in your browser). If you don't have a computer and need to make the call with a smartphone or tablet, get a tripod so you can rest it firmly on the table and bring it flush with your eyes. Make sure you have a full battery on your device
Site preparation
Have a stable chair, not with wheels (if you move around you will distract the interviewer).
Your camera should be at the same level as your eyes or slightly higher than your eyes (put some books or boxes if necessary to keep the camera in the right place).
Have only a copy of your CV on your desk, a notebook with a pen and a glass of water (however, avoid writing notes or looking at your CV if possible).
Around the camera put post it with keywords you want to remember to ask a question or mention something during the interview (the post it should be around the camera or on your screen, but avoid looking at it if possible so as not to break eye contact with the interviewer).
Background, ideally you should have a neutral background behind you, a wall without any paintings, posters, decorations etc. is ideal, all these distract the interviewer's attention, and so do bookcases! So ideally, have a neutral monochrome background behind you. Beware of white walls, they don't always look right. Avoid making the call with a bed or kitchen background.
(Extra tip: Skype has a background blur setting, if you want to activate it if you are making a video call via Skype)
Noise avoidance
Turn off all sounds of other devices, no notifications or vibration from mobile phones, landline, alarm clock, radio, TV, etc.
You can put a note, if necessary, on the front door so that no one rings the bell, for example. I have a business call, please do not ring the bell, I will be available/available after 5pm.
Windows should also be closed to avoid noise. Always choose an enclosed quiet room, not outdoors. If you cannot avoid the above, make sure you inform the interviewer before the interview. Really though, do everything you can to ensure you are alone in the room. It is important that there are no noises or interruptions from children, partners, roommates or pets. You don't want to find yourself in a similar position as our friend below:
Proper Dress and Appearance
Clothes: monochrome clothes are recommended, especially blue and grey, make sure they contrast with the background and avoid white clothes (Extra tips: dress in full/whole! Some people put shorts, sweatpants and pajamas underneath but you may have to stand up, don't risk it and make a fool of yourself like the other guy who accidentally spilled hot coffee on himself and suddenly jumped up! Top shirt tie and bottom sleep shorts, beware!
Avoid bright accessories and jewellery that can distract the interviewer.
Women soft makeup (men if you have a lamp over your head and not in front of you, your face will probably be shiny so like they do on TV it's a good idea to put some on).
Hairstyle, shave, be well-groomed in general.
If you wear glasses, make sure they are anti-glare, so they don't shine in the light. Alternatively, wear contact lenses or don't wear glasses if possible, otherwise they will be distracting.
If you have long hair, make sure it doesn't hide your face.
Before the Interview and the First Impression
Drink a glass of water before the interview and have one on your desk (avoid drinking too much coffee beforehand).
Ideally do a few minutes of light exercise before the call, you will have better energy and psychology for the interview.
Make sure you are on the call 10 minutes early and wait for the interviewer to call you. Don't forget to check the chat to see if he/she has sent you a message before he/she makes the call asking if you are available/available. If 15 minutes have passed since the time you agreed, you call him and ask him if he is available or if he wants to make the call later in the day.
Always start with a Smile! Very important to smile and during the call, it improves communication.
Visual contact!!!! Most important of all... Look into the camera lens!!! Not the screen, not the window with the interviewer's face, not your own window, you are looking ONLY at the camera lens! That way you maintain eye contact with the interviewer! Put a post it behind the camera with a little face if it helps you to remember to look at the camera instead of the screen.
During the Interview
Hand movement, you can make small movements with your hands if you wish but under no circumstances should you have them crossed.
Speak clearly and steadily at a pace the interviewer can understand, not quickly.
Listen carefully to the questions, if for some reason you didn't hear a question or didn't understand it, ask him to repeat it.
Answer each question within 1 minute if possible.
Don't read your notes, make sure you remember your answers by heart and look at the camera lens when you speak. To do this you need to practice with friends.
Make sure you get the interviewer's name right, a lot of people call me Korovesi when they call me Corvesi, or they call me Mario instead of Marco.
Sit with your back straight in the chair.
Your communication should have the 3 Es - Energy - Excitement - Engagement.
Avoid touching your face and hair.
You can share your screen if you want to show a sample of your work to the interviewer.
You've pretty much come across these types of job interviews, haven't you?
Keep reading, there are several interesting tips for others below.
3. Traditional Individual Interview
- Getting to know each other in person -
This is the most common interview so far (or is it not for everyone?)
You can see an example of an individual interview below. Let's say a little more humorous!
Some basic tips for the face-to-face interview:
Go 10-15 minutes early

Wear clean and neat clothes (avoid jewellery, heavy make-up and strong perfumes)

Turn off your phone or put it in silent mode with the vibration mode turned off

Take copies of your CV, cover letter, letters of recommendation and any other documents such as copies of your degree and certifications to present in case you are asked for them at the interview

Business cards (if you have them) and a notebook in case you want to take notes (I suggest you write down the questions you want to ask the employer to remember them)

We are polite to everyone, the interview starts from the moment you arrive at the employer's building sometimes (don't smoke before the interview, have clean breath)

Smile and shake hands with confidence

Maintain eye contact throughout the interview (in moderation, don't scare the man!)

Body language, rule 55-38-7 (Google it!): Mirroring/Mirroring Communication.
4. Panel interview
Another common type of interview, especially if the position you have applied for requires you to report to various managers/departments, in this case you avoid having to do a lot of interviews and the employer saves time.
You can have up to 5 people in front of you, asking you questions. Kind of like the video below 🙂 🙂
Advice for panel job interviews:
Maintain eye contact with all people, especially anyone who asks you a question.
5. Group Interview
There are times when you may face a group interview, especially in positions that do not require specific work experience and knowledge. The employer also assesses body language, communication skills and active listening skills.
(Source: Mega Channel, "Burn the Script")
Tip for group interviews:
Be polite and have patience

Speak only when you have something to say

Let others speak, share the discussion time with the other candidates
6. Practical Interview
In some positions such as sales, writing skills, IT roles, graphic design roles and others, the employer may test you by giving you a real-life exercise/test of knowledge and skills. Be prepared for this, especially if you are applying for positions similar to the above.
7. Interviews at Career Days - Job Festivals
In this case, you can participate in Career Days - Job Festivals for interviews. Such events can be found mainly in big cities, Athens and Thessaloniki being the most common, organized by job ad websites such as Skywalker.gr and Kariera.gr, Universities, Private Colleges and other companies and organizations.
You can interview for "information" with several employers on the same day. These interviews usually last about 15 minutes and are a first assessment for a later call for a proper interview, or you can just go and ask for information.
(e.g. What qualifications do you need to hire someone for the position of "Marketing Assistant"?)
Here are some tips:
Check the event website to see which companies are participating and create a list of those you are interested in, prepare questions for these companies

Search on the companies' website or on the event website for the open jobs or departments you are best suited for, even in the future, find out what qualifications are needed from a candidate

Check the schedule to see if there are any speakers you are interested in meeting and introduce yourself and get to know each other by doing an Elevator Pitch (presenting yourself in 1-2 minutes)

Bring copies of your CV with you (also be aware that sometimes you will need to upload it to the event website)

Bring your Business Cards (if you have one), with your contact details (Name, title - studies or specialization if you want, mobile number, email, and you can also add LinkedIn, Skype and if you have a personal website), these events are a good opportunity for networking!

Make a plan, time management is very important to get the most out of these events (interviews, seminars, meetings, etc.)
These were the most established types of interview.
There are also types of remote interviews other than the usual telephone or simple video call. Let's go through them below:
Interviews One Way Pre-Recorded, You see the question on the screen and answer it with limited time.
Video interviews Artificial Intelligence (AI - Artificial Intelligence with applications such as HireVue, Sparks Hire, VidCruirer, Sonru etc.)
Let's see in detail how to prepare for each type of interview.
8. One-Way Pre-Recorded Interviews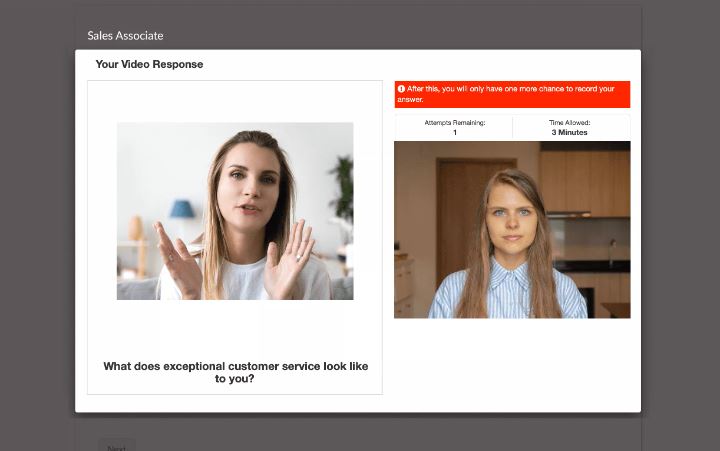 These are One Way video calls, which means you make a video call in a program without talking to an interviewer. The same tips apply as for a video call. The difference here is that the employer sends you a link. The purpose is to get you into the specific website, where he has prepared some questions for you with time to answer. So you talk to the camera for each question and you usually have up to 30 seconds to reread the question and get ready and 1-3 minutes to answer. The basic tips here:
Read the question carefully twice before answering
Answer in the time given to you
You can answer in less time if you want and post your video answer.
Attention! The answers are usually recorded 1 time with no possibility to delete some and answer it again! So good preparation to answer all of them correctly. Also there is a chance that some answers may be in writing without video.
9. AI video interviews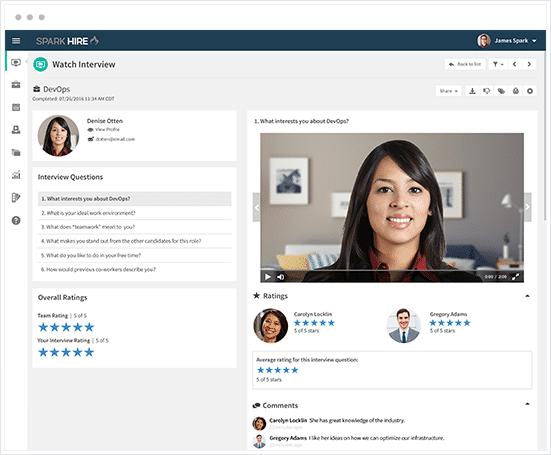 Many people will not know that this type of interview exists, and yet it does. According to research I conducted from 2011-2013, apps like HireVue, Sparks Hire, VidCruiter and Sonru, evaluate interviews through artificial intelligence. They use video evaluating up to 25,000 features. Features such as facial expressions, tone of voice, enthusiasm, eye contact, smile, creative thinking, and more! This interview can last up to 40 minutes and evaluates your bot app! Large multinational companies use this type of interview to save time and money. It applies almost the same as video calling, let's see how to beat the bot in this interview:
Visual contact with the lens
Natural smile and enthusiasm with positive energy
We repeat the question of the bot in our reply and we answer it
We answer with keywords and key phrases (read the ad carefully before the interview, the robot will check if we mentioned keywords and key phrases of the ad), with this tool by copying and pasting the description of the ad it will tell you which are the strongest keywords www.wordclouds.com/ (After you copy the description of the ad, open this site, select File, then Paste/Type Text, paste it in the window that opens, click apply, and then select Word list and see the most powerful keywords)
You may not come across this type of interview in Greece, but you may find it in front of you in the future. Abroad, however, it will soon be in all large multinationals. Therefore, if you apply abroad, especially England and USA, don't be surprised.
10. AI - Artificial Intelligence Unbiased Recruiter Robot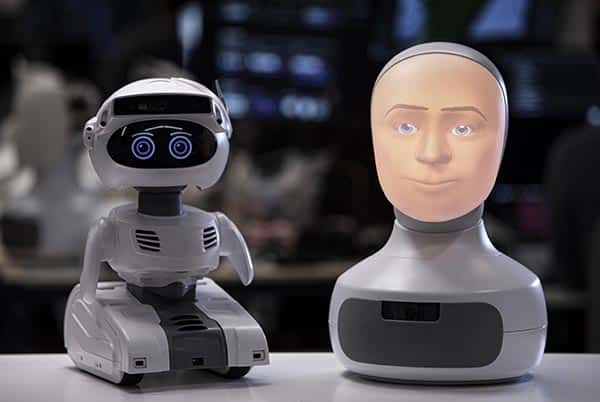 This is a very new kind of interviewing, completely revolutionary, Social Robotics startup Furhat Robotics and TNG in Sweden have created an AI Robot that interviews and evaluates candidates solely on their knowledge, skills and personality, without judging the candidate's looks, age, skin color, religion and other characteristics that humans usually discriminate against.
The robot is called Tengai, and it is the new innovative recruitment tool.
Very new kind of interview, however if you have the opportunity to interview with this or other similar robots in the future, my advice is:
Be yourself, speak confidently and enthusiastically about your goals and your professional vision, focusing of course on the position you have applied for
11. Alternative Interview
Some employers are very creative with the hiring process and do the process their own way! You can't prepare for this type of interview, just be yourself!
An amazing example of an alternative interview is the one from Heineken.
These are all the types of job interviews I know and I offer you the most important tips to prepare yourself properly.
What is your opinion on the above types of interview?
I would like your comments and your opinion on this article. Maybe share any additional tips or any other type of interview you may have come across.
Leave a comment below.
I will greatly appreciate it!!
Good luck in your job search and I hope you triumph in any kind of interview
---
Related Free Material for "Interview Preparation" :
- Online Seminar: How to make a good impression in your recruitment interview (webinar)
- Article: What to ask the employer in an interview
- eBook: Win the Interview with your Voice
Markos Korvesis helps people around the world find their ikigai: a job they love, do well, that people need and are rewarded for.
He is a Career Consultant and co-owner of LeadCompass with 3,000+ hours of training in 15 countries. He specializes in Resume, Cover Letter, LinkedIn, Interview Preparation and Job Search Techniques for Greece and abroad.
It monitors the latest developments in the global labour market, such as virtual reality assessment of candidates and interviewing with artificial intelligence and robots.
He has helped over 1,000 people of 50+ nationalities with successes in 30+ countries find the jobs they want at companies like Google, Amazon and Microsoft, as well as start their own businesses. His goal is to help millions of people with their careers worldwide.