Are you finishing your studies in computer science or have you just finished a coding bootcamp and are you getting ready to enter the job market?
You may have spent several hours reading your school's courses and wondering what you need to do to make the code work. To get to the point where you get a call for an interview or a collaboration offer means you've put in several hours of work on a personal or group project beyond your thesis. You may even have invested significant time in educating yourself in online courses to learn or understand a technology.
Keep in mind when creating a resume that it needs to be tech market oriented. A generic resume will potentially limit your chances of working at a tech company. What do I mean?
How to make a resume: Complete Guide to Creating a CV
Confirm that you used keywords in your CV
Have you taught or developed an application in Java, C++, Python?
Have you taken an online course in a specific framework?
Mention them in your CV because they will make it stand out from the majority.

HINT: Did you know that most companies you apply to have a software called ATS (Applicant Tracking System)?

In essence it is a database where there are CVs and in order to display the most suitable or relevant CVs the Recruiter through a keyword search will bring up the most relevant CVs.

Even if the company doesn't use such a system there will be an executive who will do the initial screening of the CVs and look at the keywords in it. So think about the first impression you give through your resume.
Entry level Developer: Projects
Did you develop any personal or group projects?
What did you solve with these projects?
And more importantly what technologies did you use for the backend/frontend or which base did you choose?

Most importantly, list the projects you are most proud of and have given enough time to make you "fiddle around" until they work. Create a field on your resume where you can mention 2-3 projects - in addition to your thesis which will be put elsewhere.
Entry level Developer: Awards and Distinctions
Did you take part in a Hackathon with a team or alone?
Maybe you received an award?

Of course you will report your participation, even if you or your team did not receive a distinction. Just the fact that you were involved with an idea that you presented in front of others creates a positive impression of your character and the social skills you may have developed such as teamwork and entrepreneurial thinking.
Do you use GitHub?
Basically, if I can explain it in very simple terms, it's a platform where every developer uploads code that he/she has written from his/her app. If you don't know what GitHub is, google it and start using it.

Companies expect you to know what it is and certainly to use it and be active in it. Even if you don't upload your projects' code very often, you can help other developers with their own projects, collaborate with them and contribute with your code and ideas.
Do you have little work experience?
If you worked as a freelancer or volunteered on a website, mobile app or general idea of someone you know, mention the period of collaboration and the technologies you used. Even better if it was an internship is very useful information because even in that 3 months or 6 months, you saw how a company works, wrote code and became part of a team.
The meetups
It may not be easy to mention as an achievement on your CV unless you organise one, but it's certainly a way to keep in touch with the technology in question, you also expand your network and meet other passionate developers in the field who could potentially recommend you for a position at the company they work for or introduce you elsewhere.
Entry level Developer & Hobbies: What do you do in your free time?
You may be working now in a non-programming related position for survival reasons, but what do you do in your spare time?

Are you applying and just waiting to be selected for a developer position or are you working on an idea?

Apart from all the above I have mentioned this is the advantage of being an entry level programmer. Do you continue to practice programming in order to stay "hot" or do you have other priorities? This consistency is much appreciated by the technical people who will see your resume, i.e. it counts in what you do in the present day.
entry level developer Example of a CV
Here are 3 examples of resume templates from our shop.
Find here all the resume templates for developer >>
#1 Resume example for developer: Superior
#2 Resume example for developer: Esthetic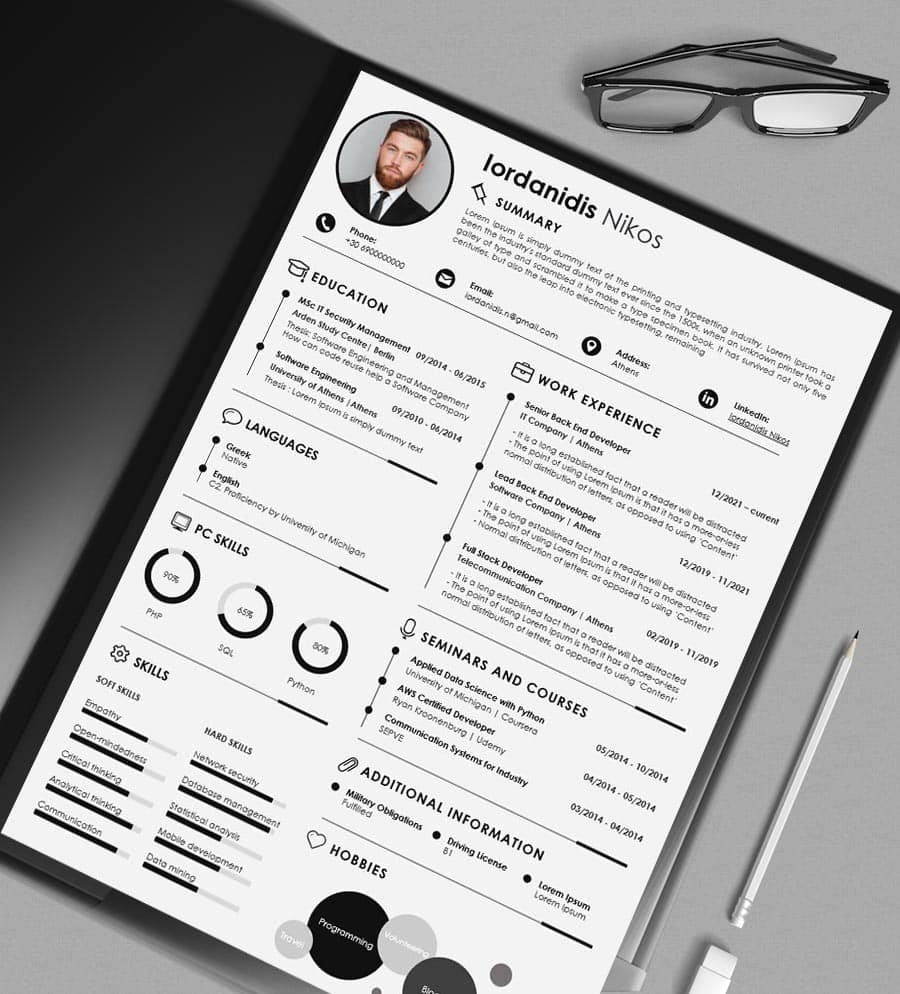 #3 Resume example for developer: Dynamic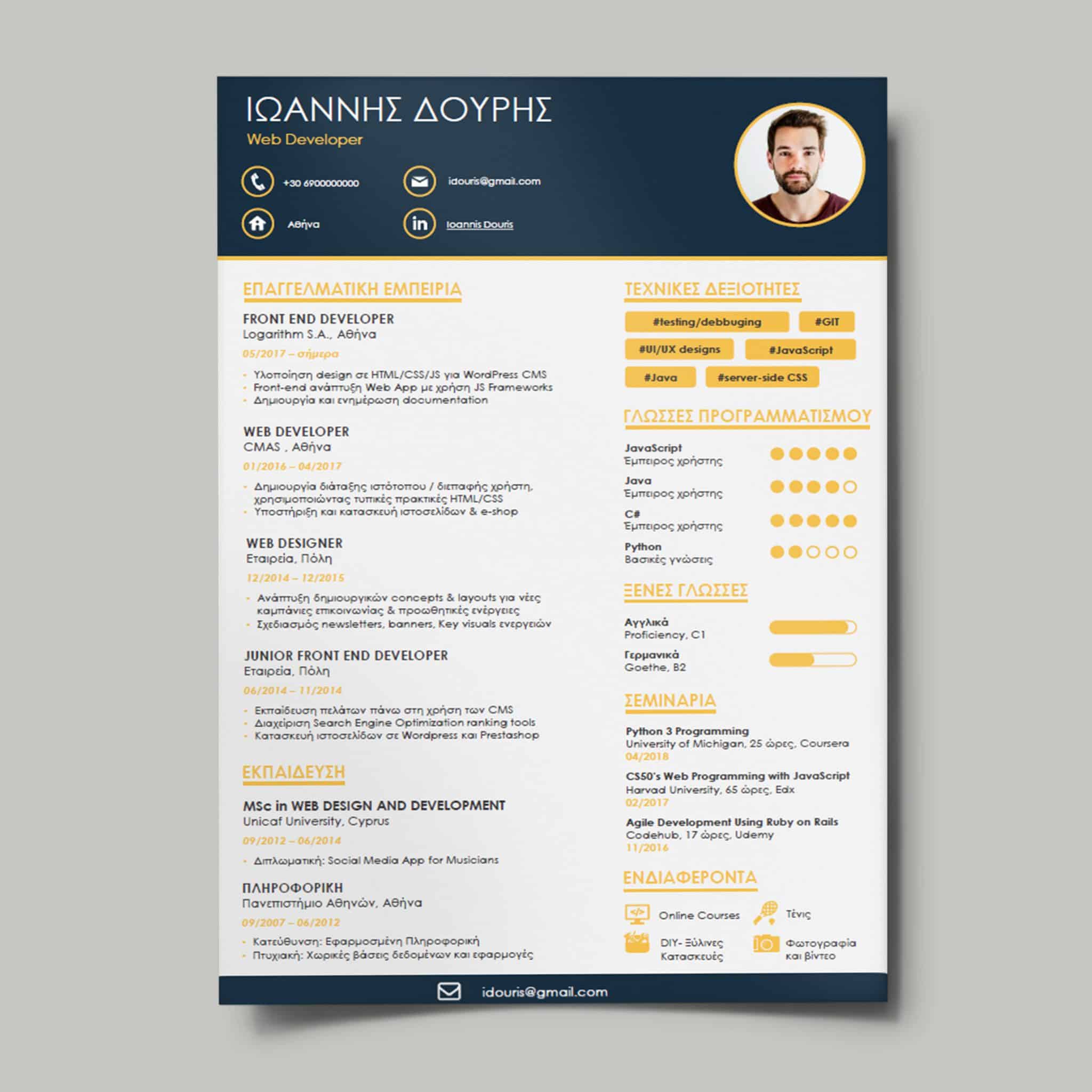 All this may seem like a lot to you, but it's essential details to be able to show off your skills and make the right first impression on companies. If you need support with creating your CV, you can contact the CV writing agency of LeadCompass.
Elena works as an IT Talent Acquisition Specialist. She has been involved in the consulting industry since 2017 as she loves connecting with people.
She has experience in Resume/Cover Letter/Linkedin services and has evaluated over 1000 resumes.
He has also volunteered to help vulnerable groups by organizing training sessions in cooperation with the NGO SHA - Social Hackers Academy, on the proper structure and preparation of a CV for positions related to the IT sector.
In an ideal world, she would want all people to work in positions, sectors and companies they love, which is why she chose the field of consulting.