In this article we'll talk about everything you need to know about the Europass CV and why it can be fatal if you use it in your job applications.

We will discuss how it started, what it is, the pros and cons, and what other alternatives exist nowadays to create a competitive resume and stand out in the job market.

If you don't have much time and you just want the final conclusion, we will tell you empirically the following:

With the Europass not Press/pass nor in Europe/Euro or nowhere if you really want to stand out from the rest of the applications and earn a seat at the interview table.

Clearly there may be some exceptions depending on the sector in which one is working. So we suggest you keep reading and form your own opinion.

Ready?

Let's get started.
What is a Europass CV?
If you're looking for a job in Greece or Europe in general, you've probably heard of the Europass CV.

This type of CV is considered the standard across Europe and used to be used by all employers to gain a comprehensive picture of your qualifications and experience.


So what do we define as a Europass CV?

The Europass CV is a European CV template and is completed via an online application. It was created by the European Union to promote employment opportunities across Europe.


How to make a resume: Complete Guide to Creating a CV
The history of the Europass CV

The Europass CV idea was born in 2004 to make it easier for citizens of European countries to show their professional qualifications in different countries without having to adapt their current CV every time they apply for a job in another country.
The first version was released in 2005 and has since been intended for use by employers around the world. In 2017, it was translated into all 24 official languages of the European Union (EU). One of them is Greek (see below for an analysis of the whole process of creating a Europass Greek CV template).

Although the purpose of its creation was to help candidates on the one hand to inexpensively showcase their experience with a simple CV template and employers on the other to quickly and efficiently review profiles from the applications they received, these days it doesn't really help either side:
- candidates cannot distinguish if most applications are on a Europass CV and
- employers cannot fill jobs within the timeframe they want because they cannot quickly identify the talent they are looking for.
Before we go into detail about all the pros and cons of using a Europass CV these days, we'll first mention when it's an exception to our rule.

When is it an exception and you can use Europass CV.

It pains me to write this, but some institutions continue to ask for the Europass CV.

Therefore, as a CV writing agency, we recommend the Europass CV, ONLY if the job is related to public bodies or European organisations that use it as a prerequisite.


Advantages of the Europass CV
We can list 1 main reason why an employer continues to require the use of the Europass CV today and another reason why a candidate is considering opting for the Europass CV.
1. The Europass CV template is free of charge for the candidate.
The most obvious advantage of using the Europass format for candidates is that it is a free CV template. So far it has helped many of our fellow citizens to choose it for financial reasons as an easy solution, but I strongly urge everyone to avoid using it if they want to give their CV a serious chance of standing out.

There are other ways to make your CV free of charge and without the usual Europass format.

We all have it on our computer, but we never thought that it provides its own resume templates, free of charge.

(the suspense builds...)

Did your mind go somewhere? Did you find it?

The easiest and most effective way to create a free resume template is to make a Microsoft Word CV.

Yes, you read that right.

But beware.

Whatever is free, in the end costs.

2. Out of habit, some employers may accept it.
Some employers may be used to the Europass CV format and may still prefer it.

But, remember this.

You never, ever need a Europass CV to apply for a job in Europe.

In fact, many employers unconsciously or consciously reject candidates' CVs that are in Europass format because they have not invested resources (time or money or both) in trying to differentiate themselves in front of his or her eyes.

Others even consider it an insult and that the candidate is not respecting his time.

On the other hand, the truth is that some recruiters (not all) are not so much interested in the quality or design of the CV as they are in other factors.

Therefore, whether they receive a Europass CV or another CV template is irrelevant for them.

In large companies and multinationals, the europass is rarely selected for the second round of screening.

In smaller companies and more traditional industries, he might have a chance, but it's still not a sure thing.

It's about what kind of employer you run into.

You're taking a chance?

Yes?

OK. Below is a short guide. We describe step-by-step the process of creating a Europass CV.


How to create a Europass CV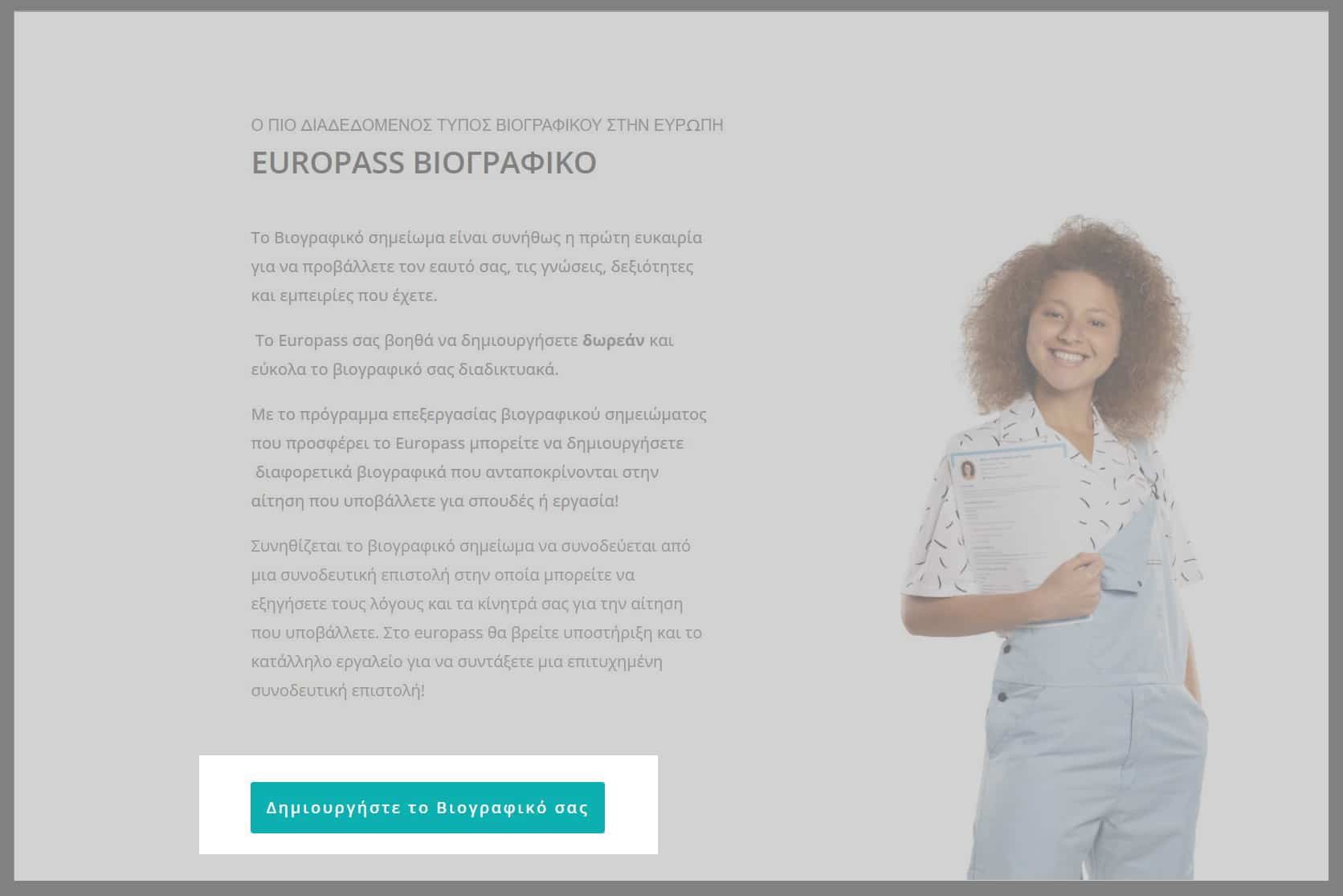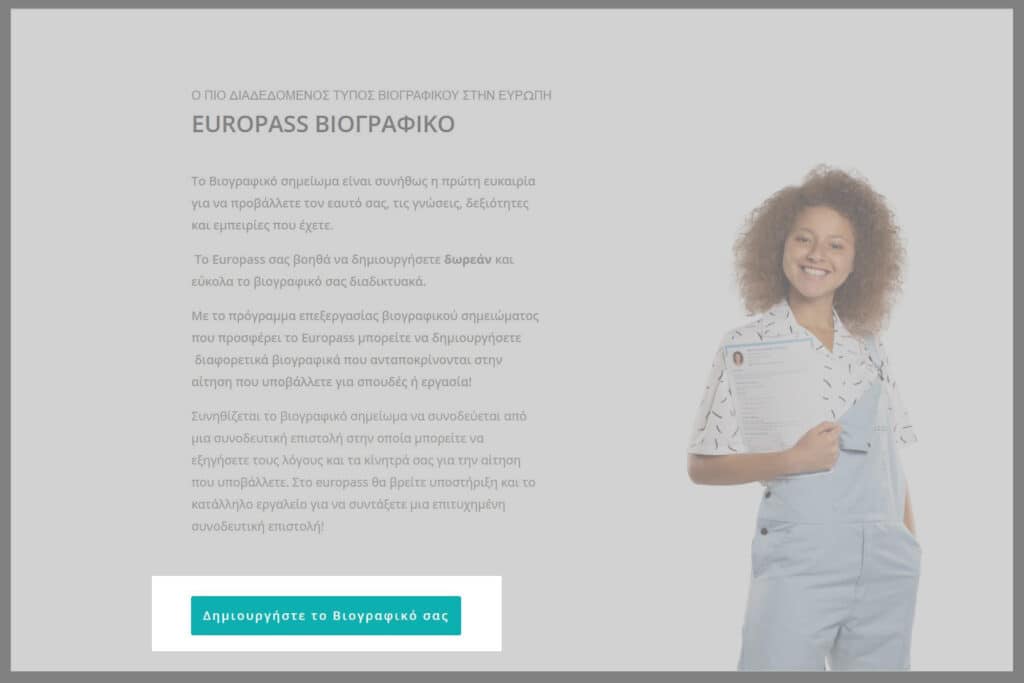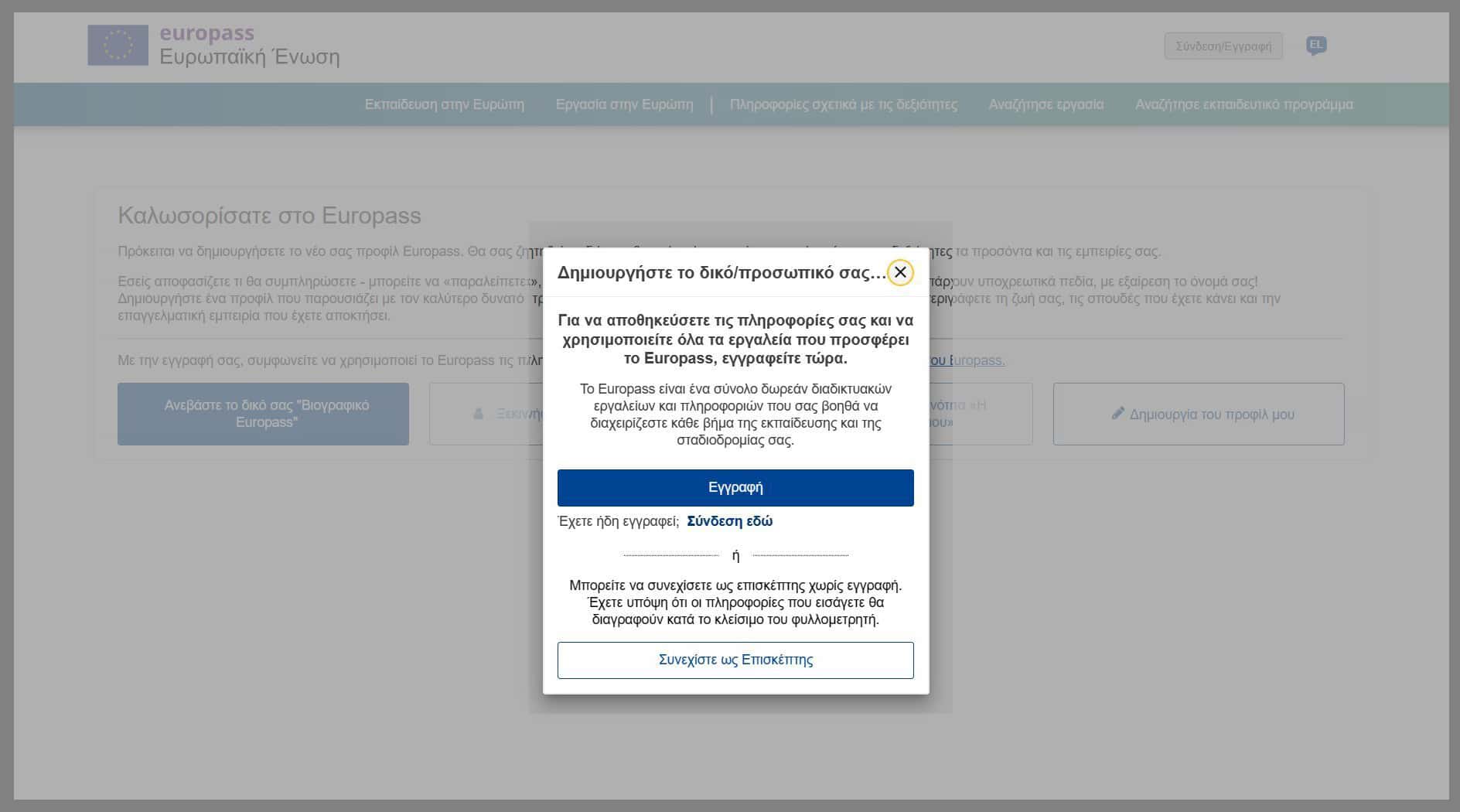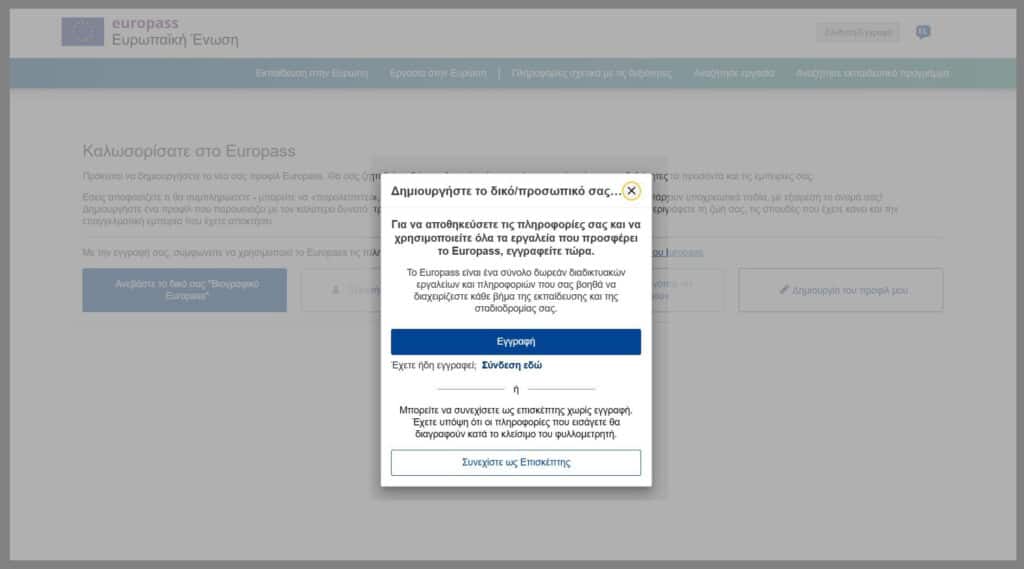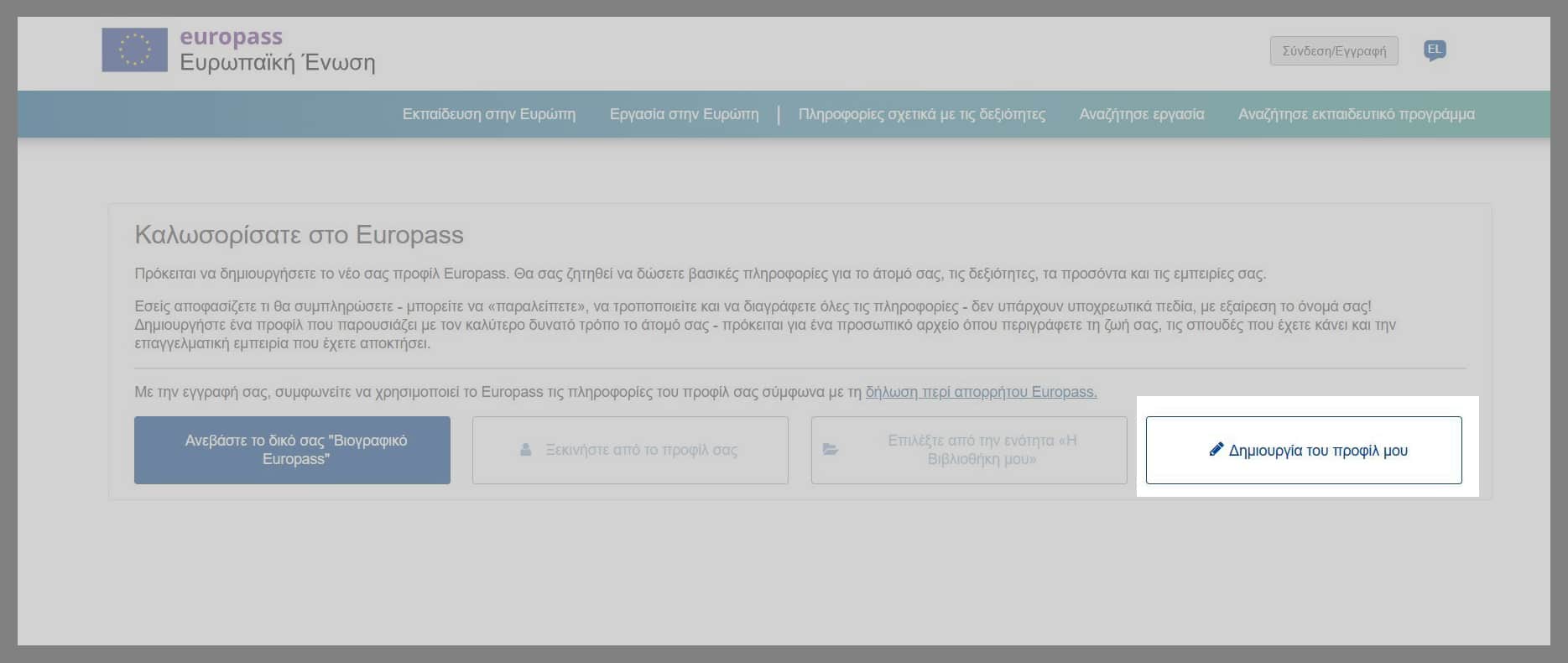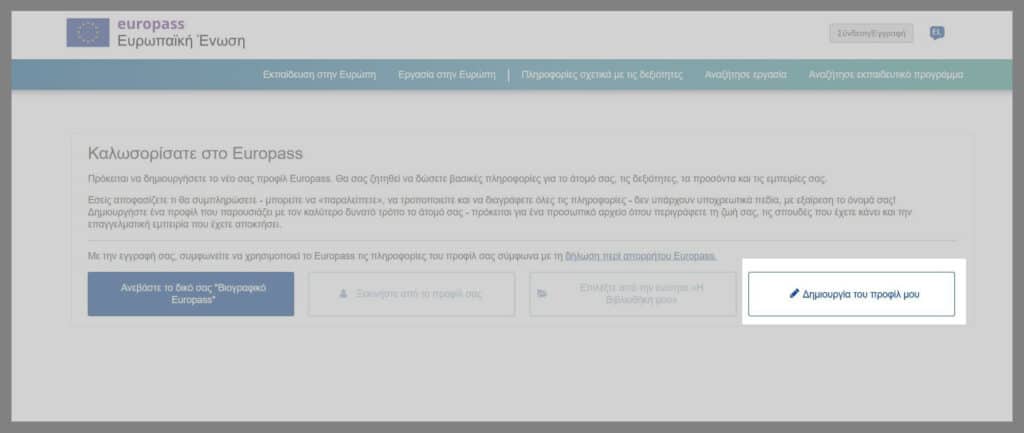 Attention: It is only for Europass template CVs and not for any CV in PDF format.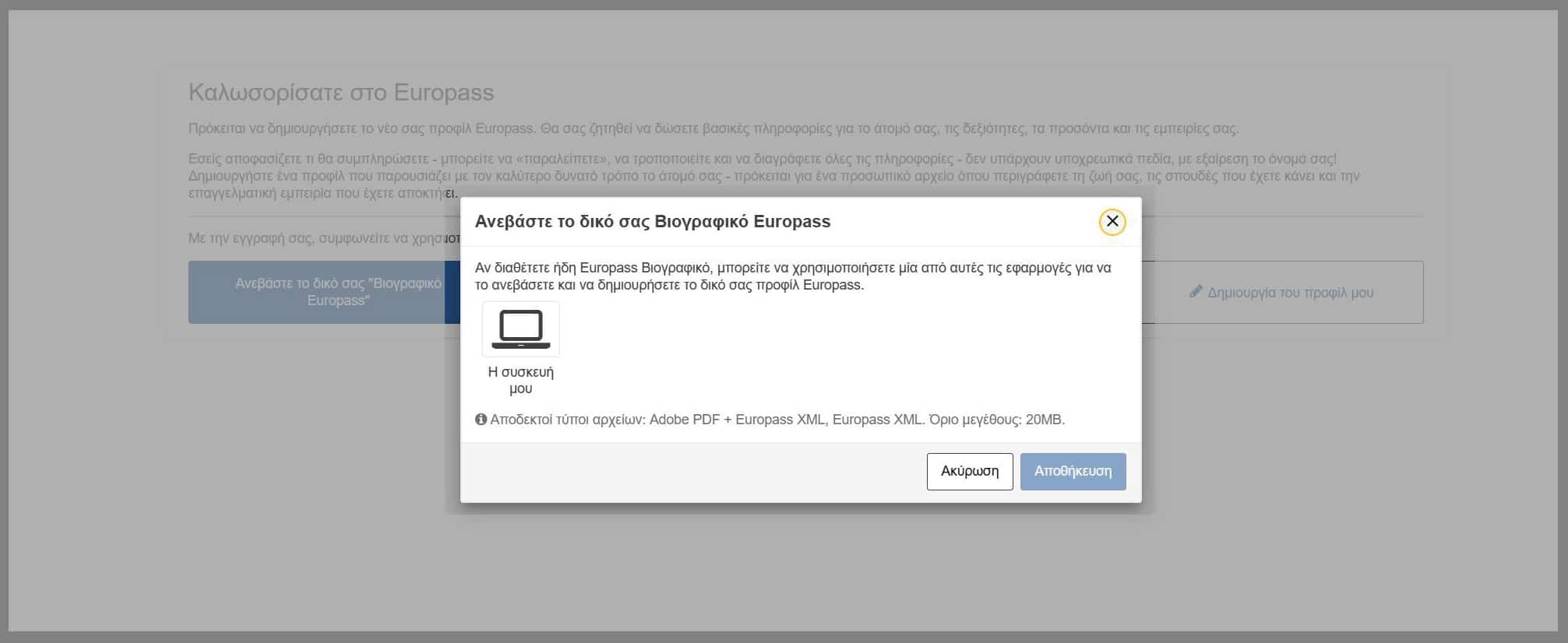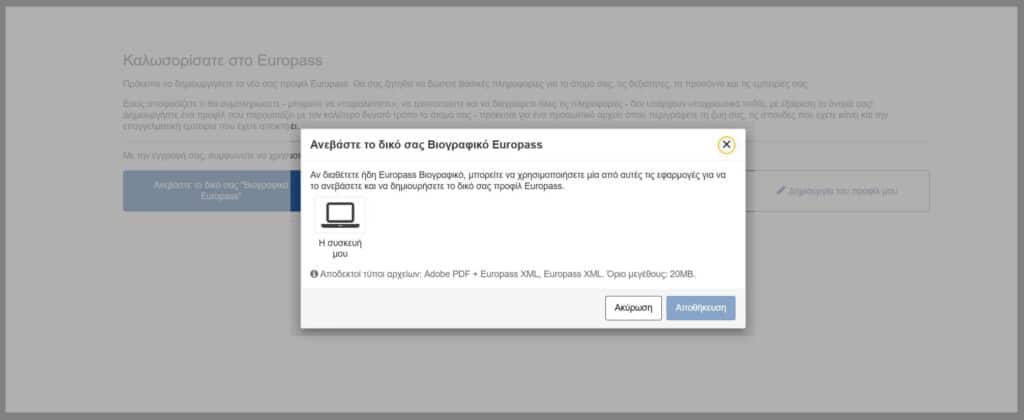 If you miss this information and upload something else, you will be taken to a /error error and a red indicator will appear at the bottom right of your screen.
So, if you don't already have a Europass CV template (specifically the European Europass template, not another one), then you can't save time and have your information uploaded from your existing CV to the Europass platform and to some extent automatically filled in.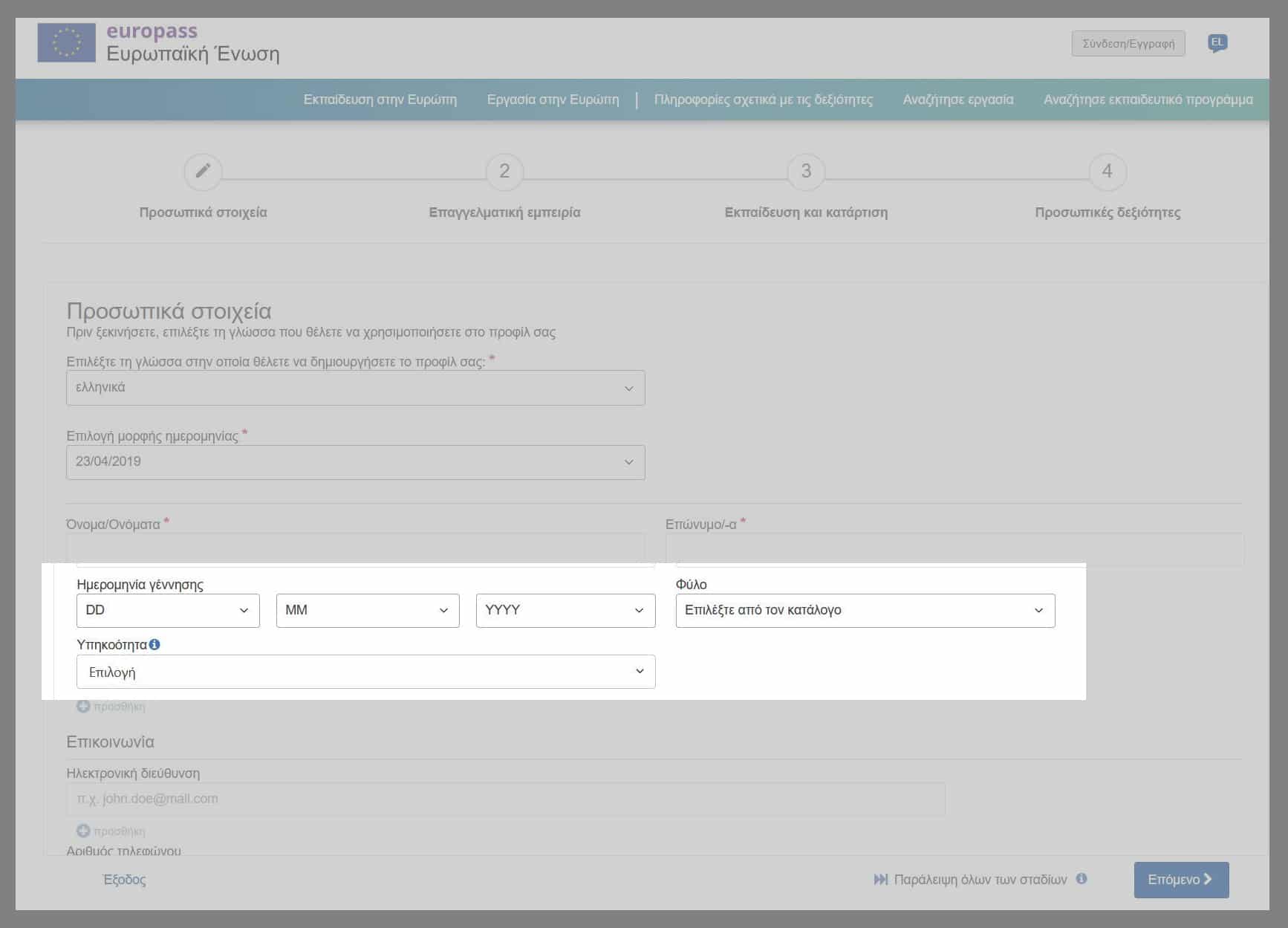 A major drawback here, as far as the Europass template is concerned, is the fact that it still includes (optional) fields to be filled in that can degrade your whole CV if you don't know that you can and should leave them out.
For example, the fields "Date of Birth" and "Nationality":
There is no reason for your employer to know your date of birth and how old you are. It's like telling your prospective employer to judge you based on your age, not your experience, skills and abilities. Why give a reason for your resume to be rejected at the drop of a hat ?
Mentioning your nationality in your CV is not a legal requirement for your application and can open the door to discrimination and prejudice against you. RACISM still exists...
Going down, you will see that there is also the "Address" field.
Pay attention to this particular area so you can sleep soundly at night.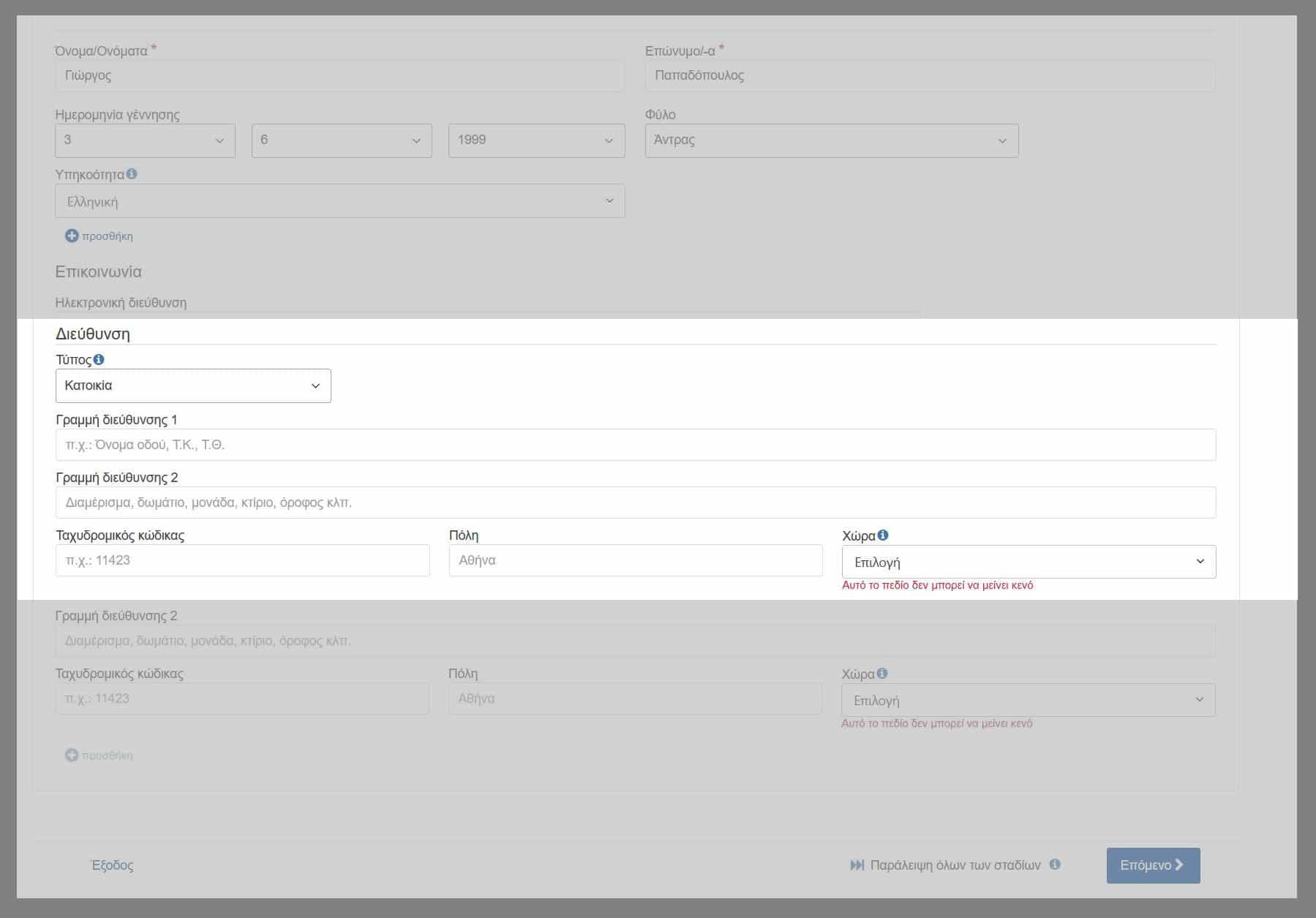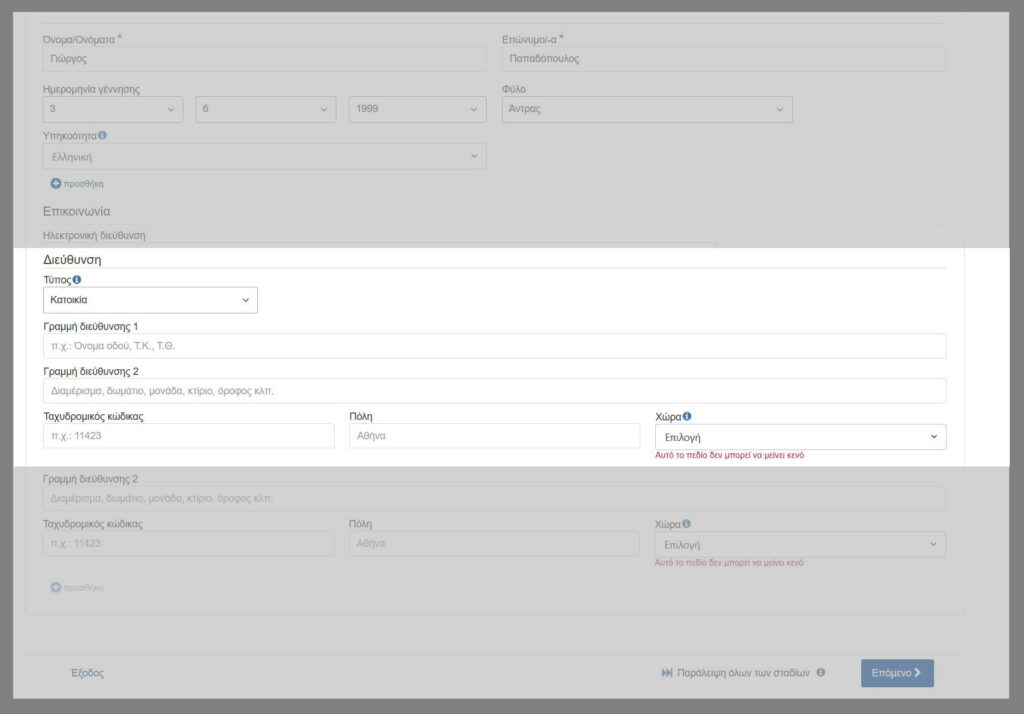 This field is also a big trap.
Of course it should be there, but we should not give out our postcode.
It is good to mention the wider area and city/country and not the full address of your home.
Why?
2 reasons:
A full management may (even if unconsciously) not allow the hiring manager to be objective towards you. He or she may form several incorrect conclusions based on your street of residence or postcode and thus damage your chances of being called for an interview.
For example, if you live in an area with a high crime rate, then you are a criminal. Cool? And yet true.
If you are not local or anyway close to the workplace, then the long distance from your home to the company may be seen as a negative.
So, keep it simple.

Correct examples:
"Athens, Greece" (for English CVs).
"Pylea, Thessaloniki" (for Greek CVs)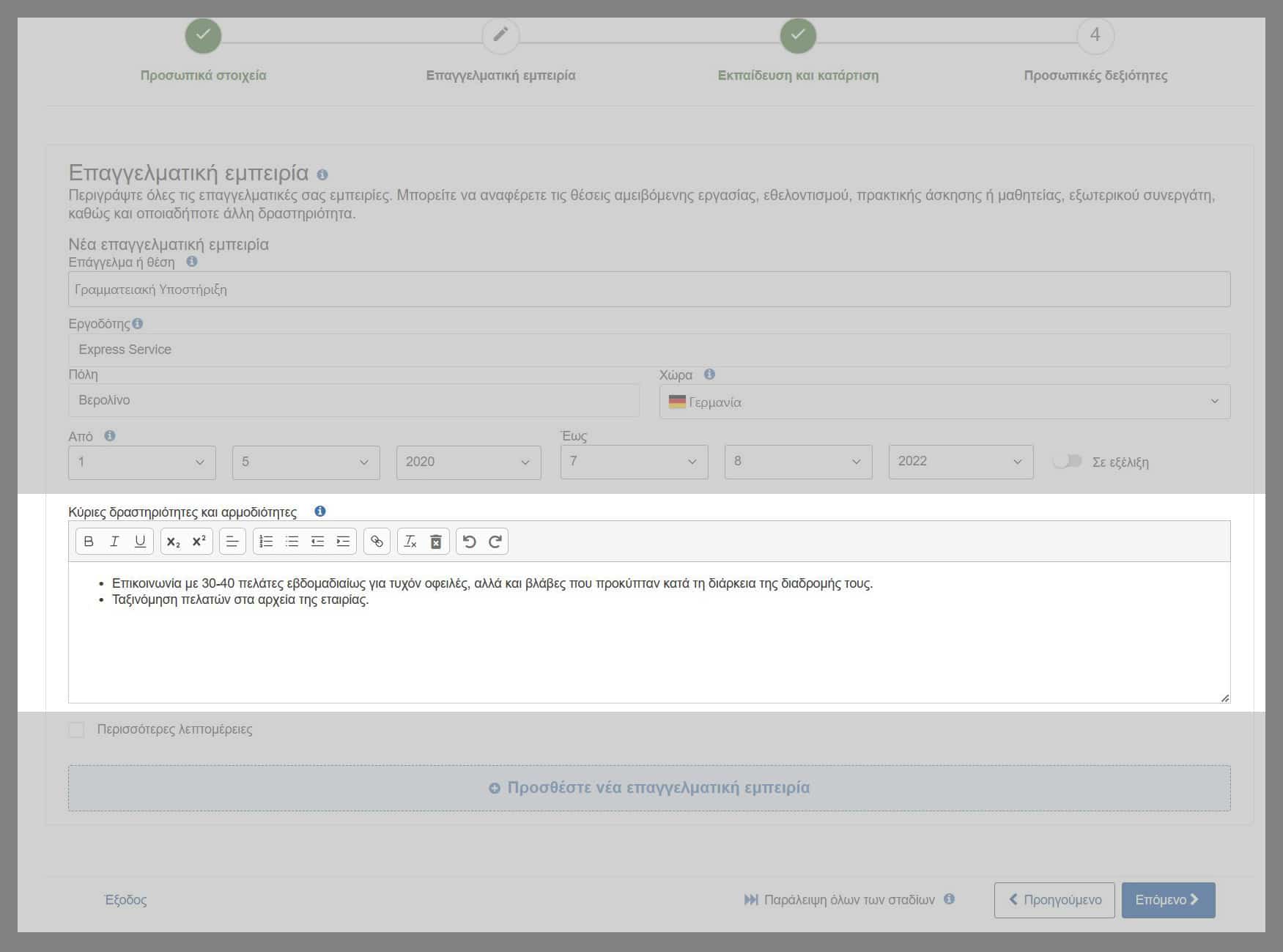 Many users often experience problems with the text editor.
We didn't meet one on the day of the Europass CV tool assessment, so maybe we were lucky.
It provides some quick examples of tasks to help you get started, but try to remember that these are probably used by the whole planet and millions of users with a similar profile to yours.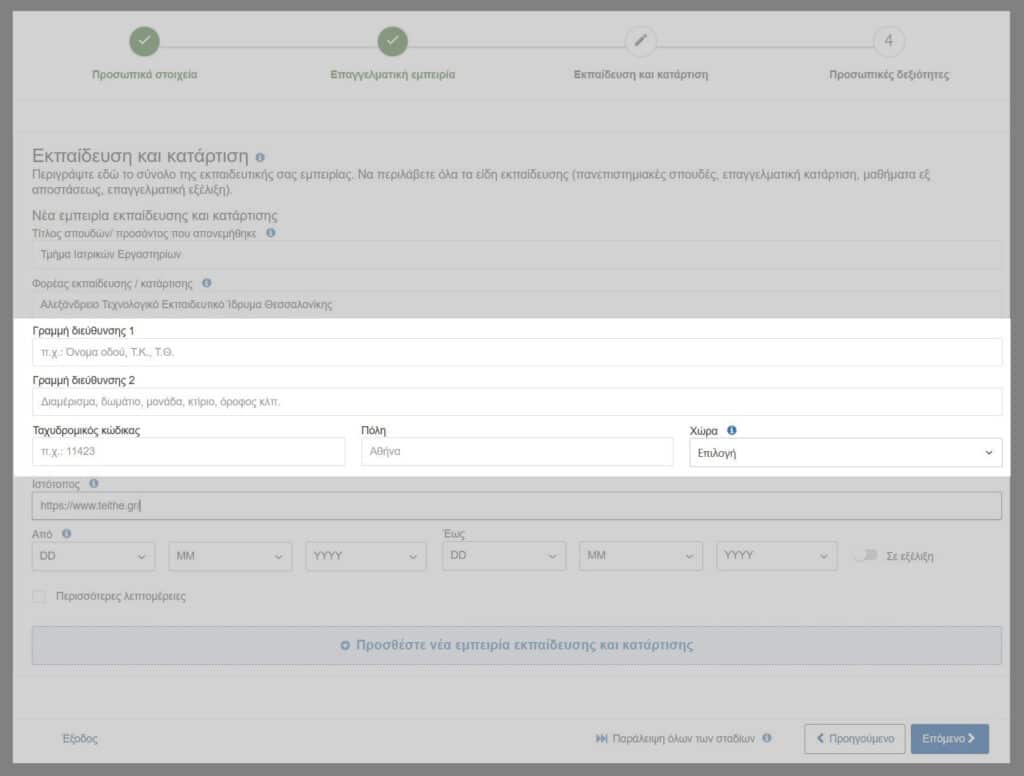 There is an option to fill in the address of each company.
Please don't do it. You don't want to see how it will automatically appear on your resume later.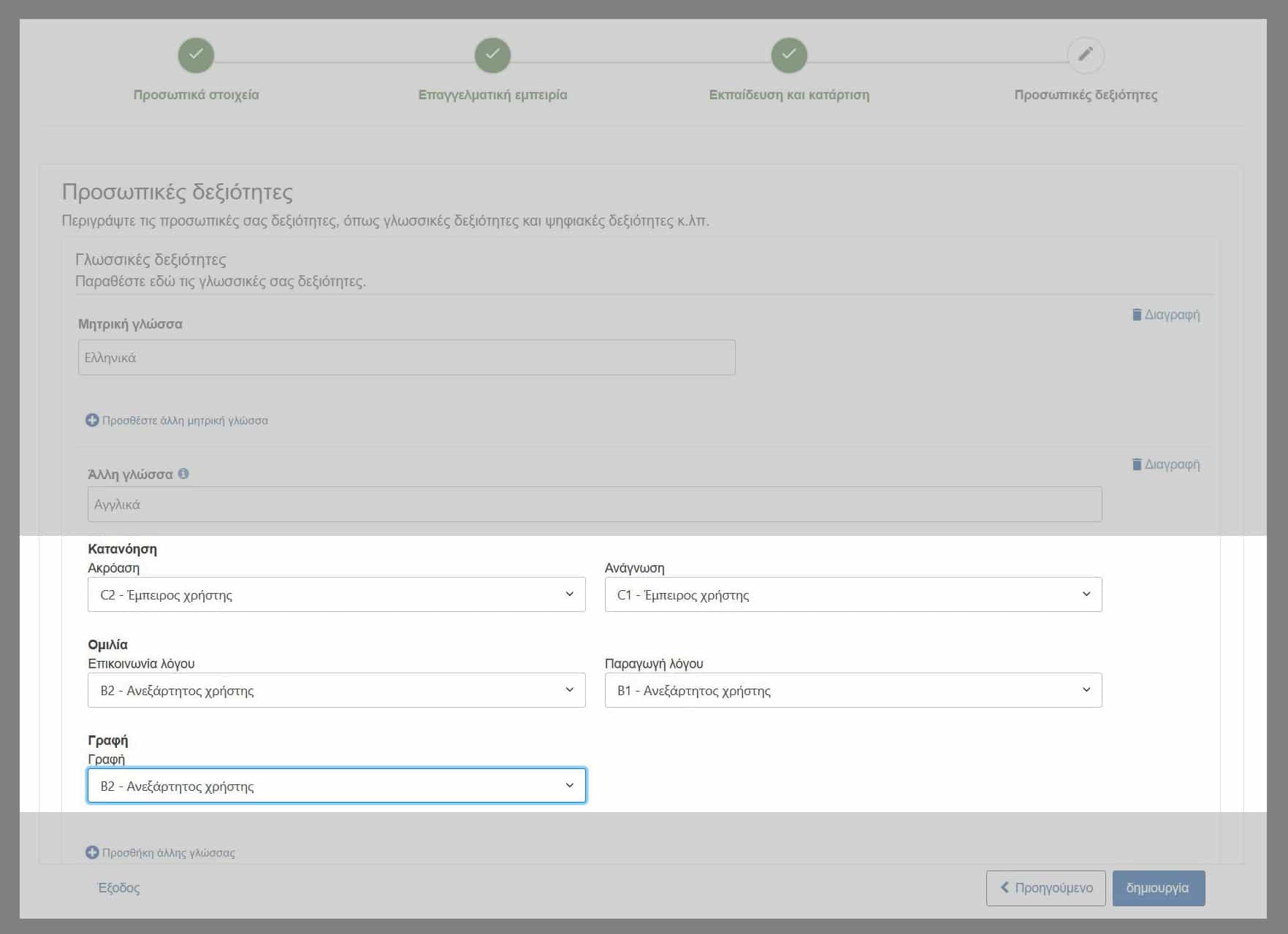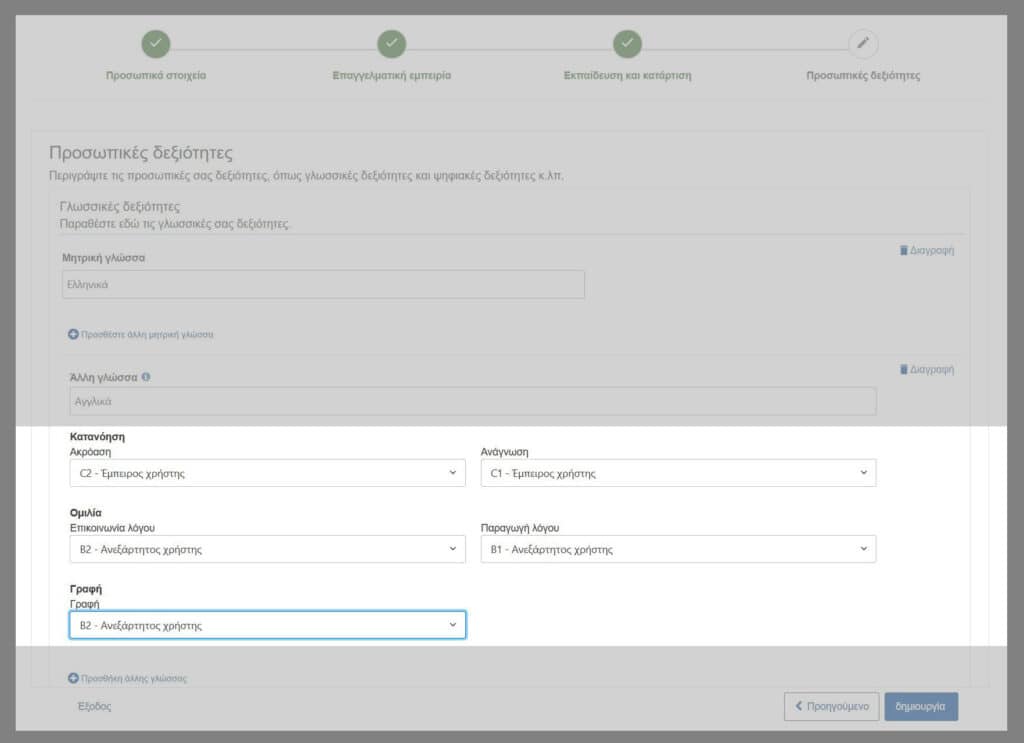 On language I would like to say this:
I'll be succinct here.
If someone claims to be able to speak English well, it will show in the interview.
We don't need to go into that much detail in our CVs.
It does no one any good.
What is the difference between "Communicating Speech" and "Producing Speech"?
Real fields that just waste the space of our resume in the end.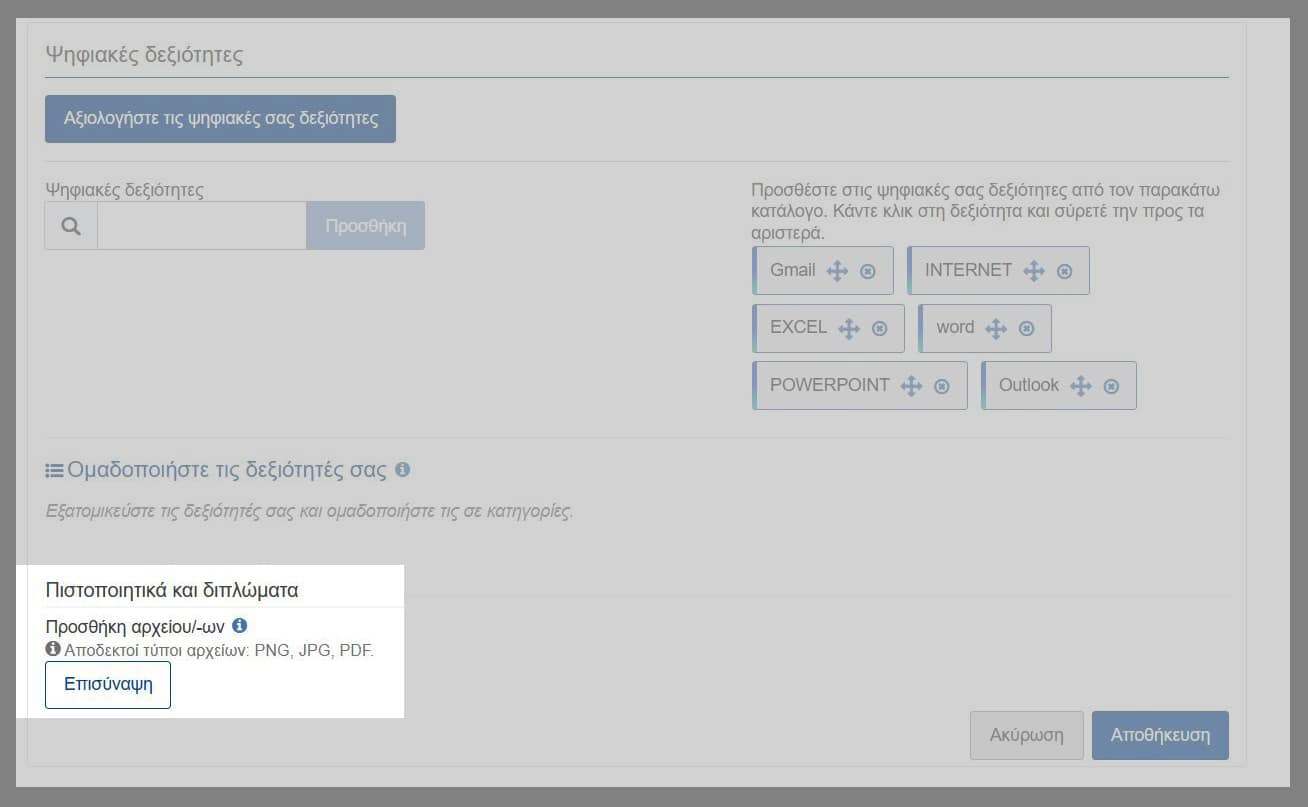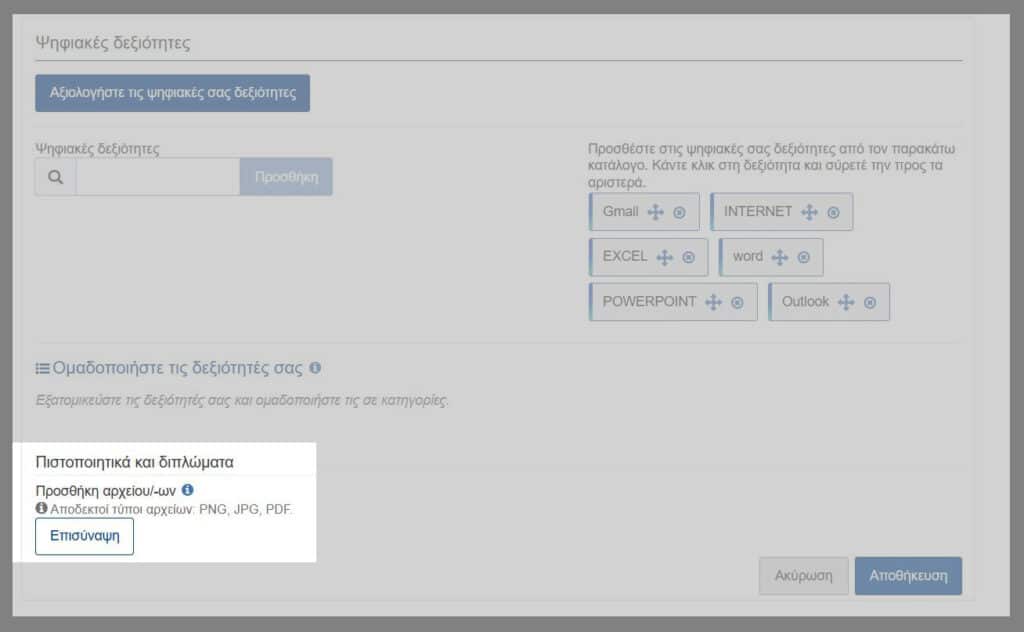 Some of the Europass proposals I can only describe as funny.
Who puts "Internet" as a skill these days? 🙂
Also add certificates and diplomas? Why?
Someone answer me in the comments below.
After this section, which is the last one, it leads us to the following page.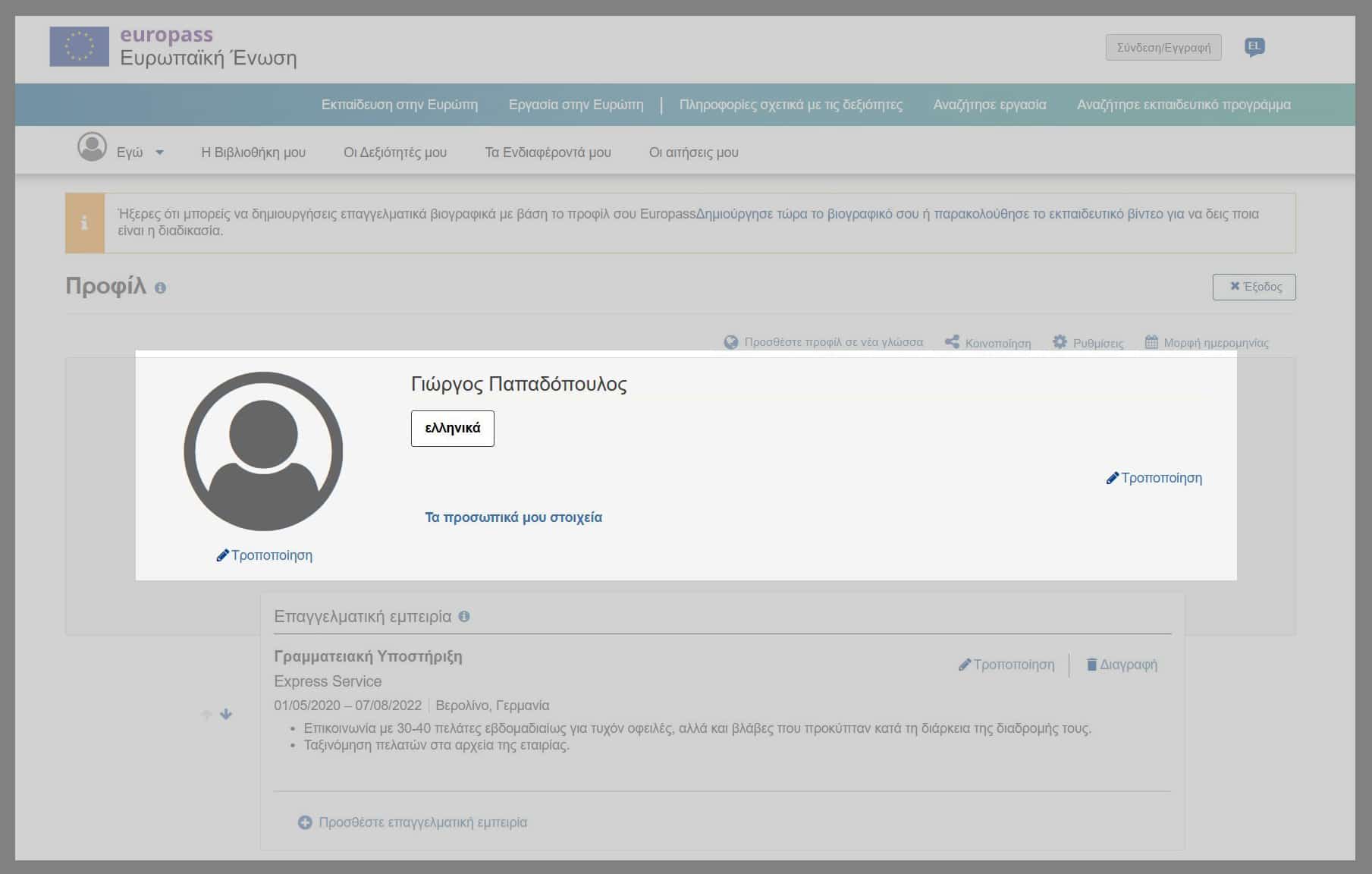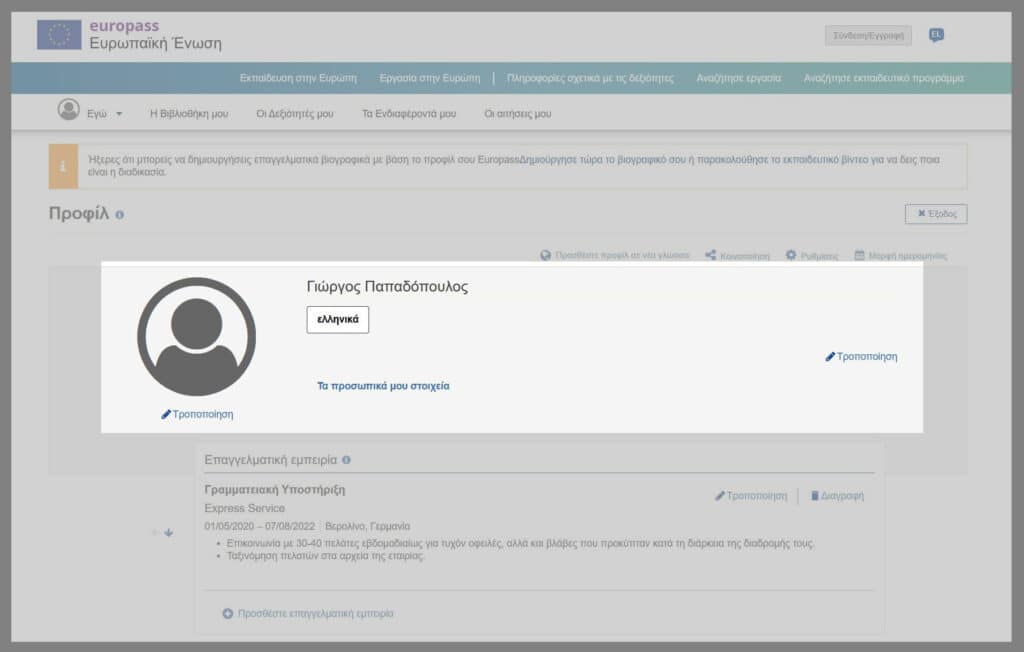 After filling in all the necessary information I was taken to this page which summarizes our data so far.
What is the next step?
I searched for about 20 minutes to find it. It's really not visible and clear what the user has to do to proceed.
You are lucky or lucky because I will give you the solution so that you don't have to suffer like I did.
You'll see above in "fine print" that it has a "Create your CV now" link.
Click on it to take you to the next step.
I know it's a little time-consuming, but stay with me.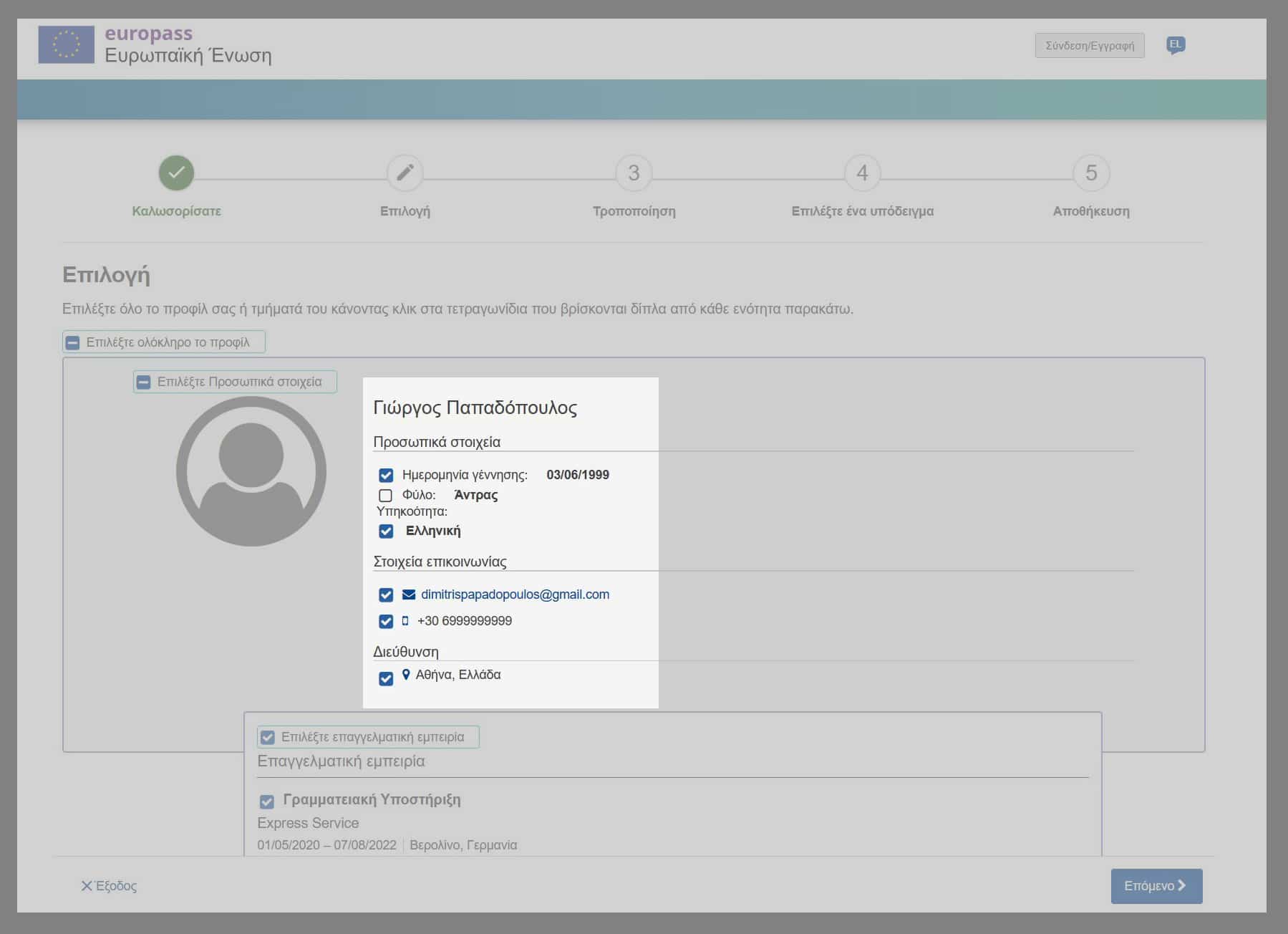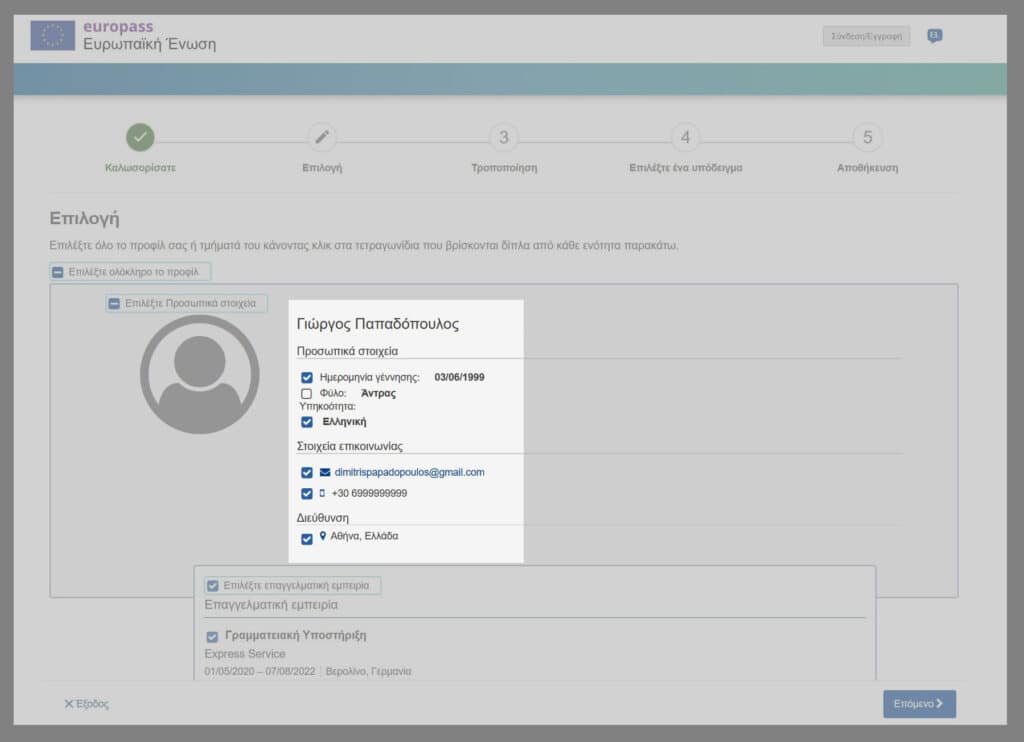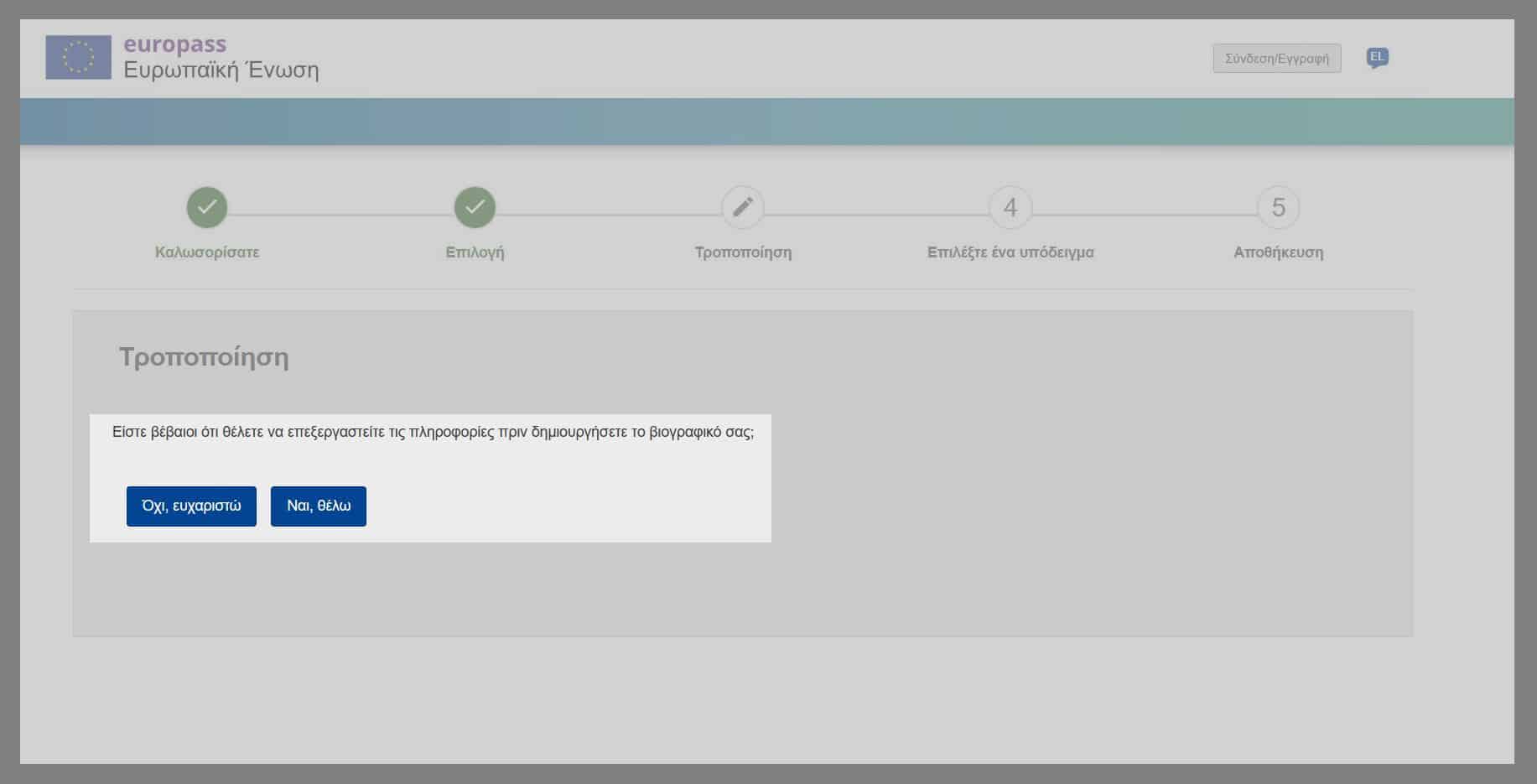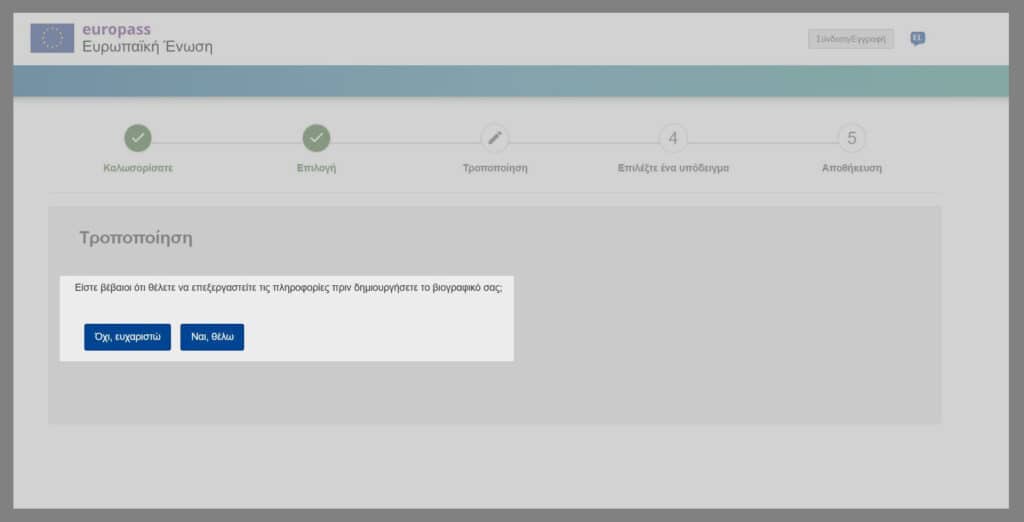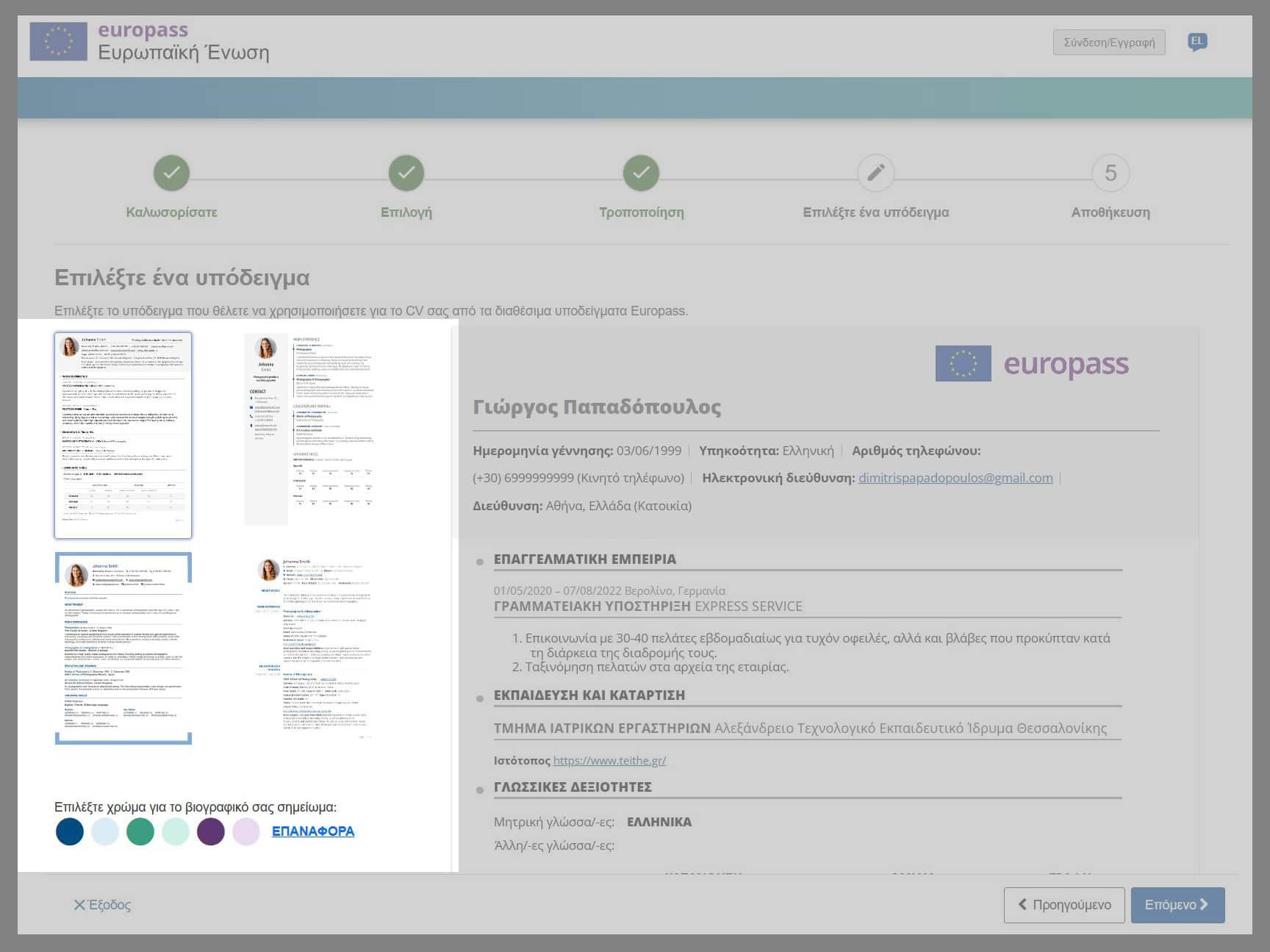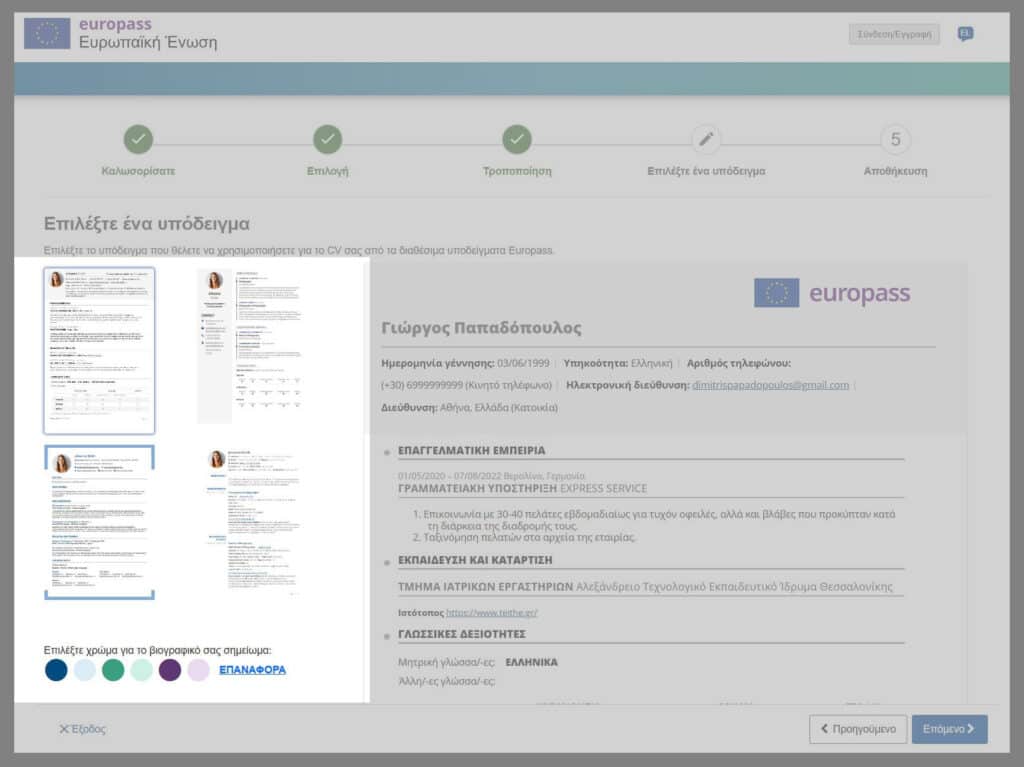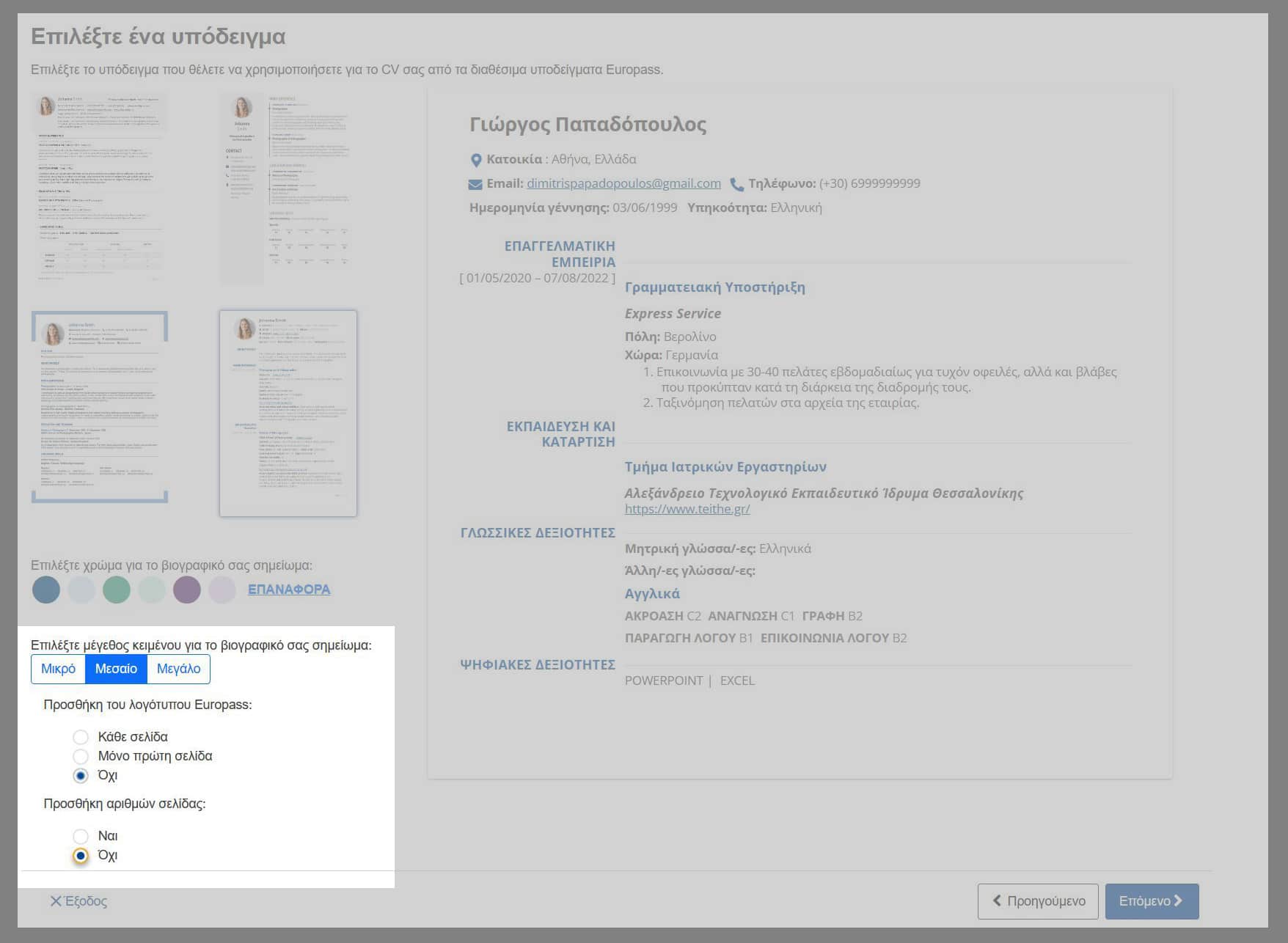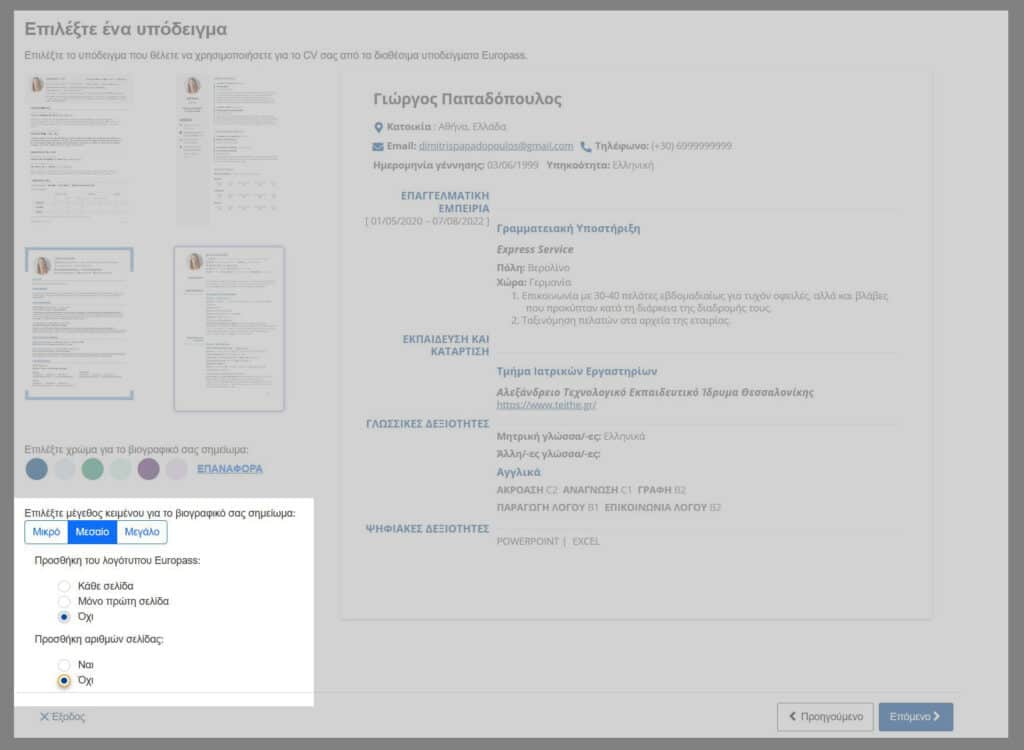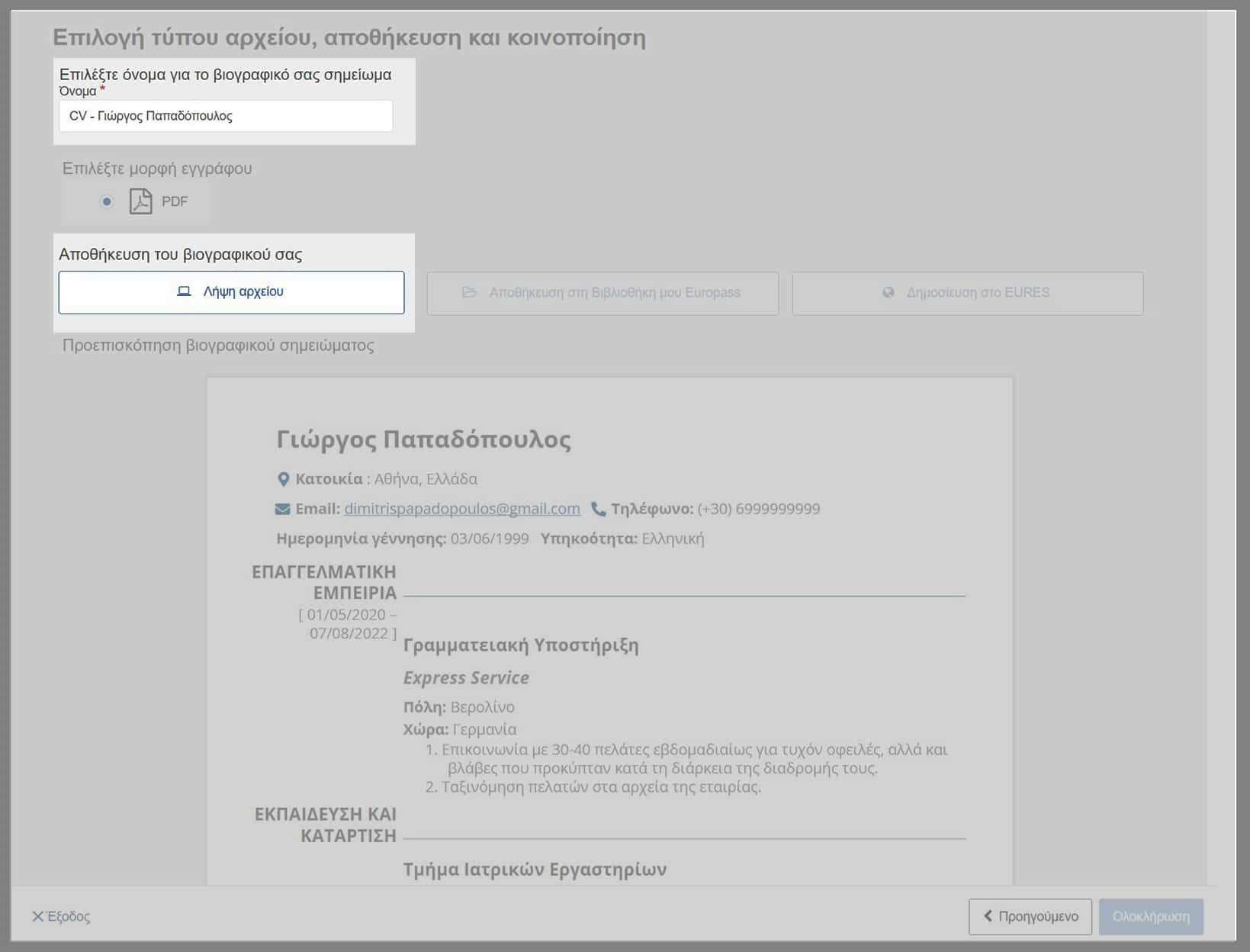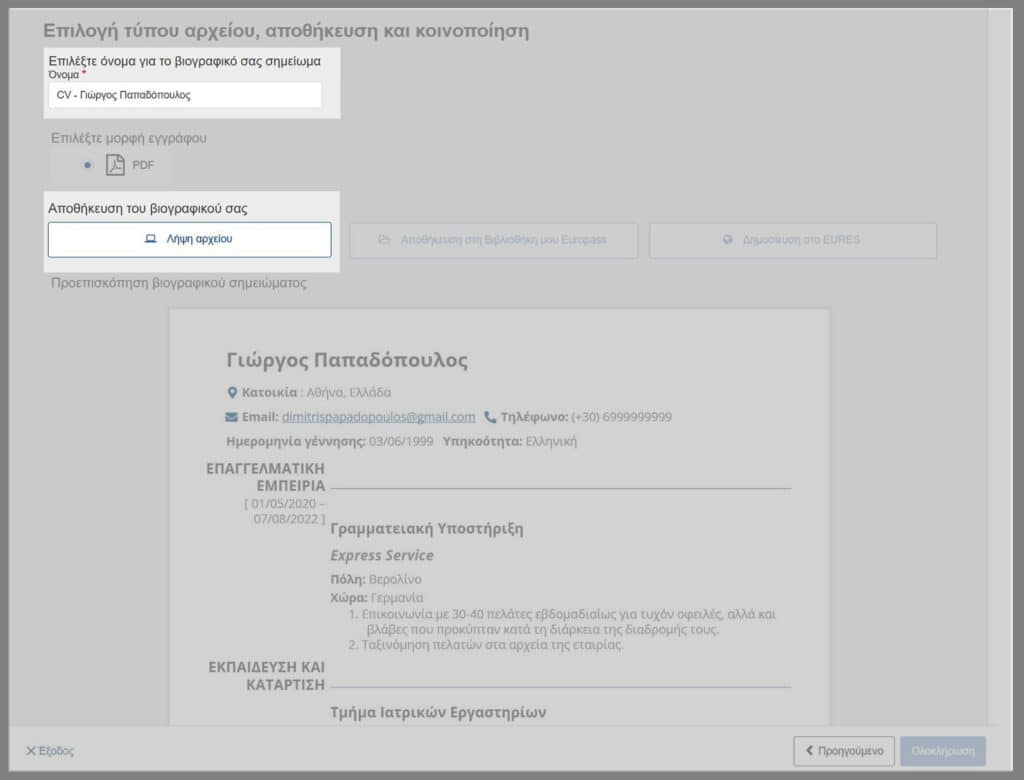 Here you can see the final result.
Example of a Europass CV.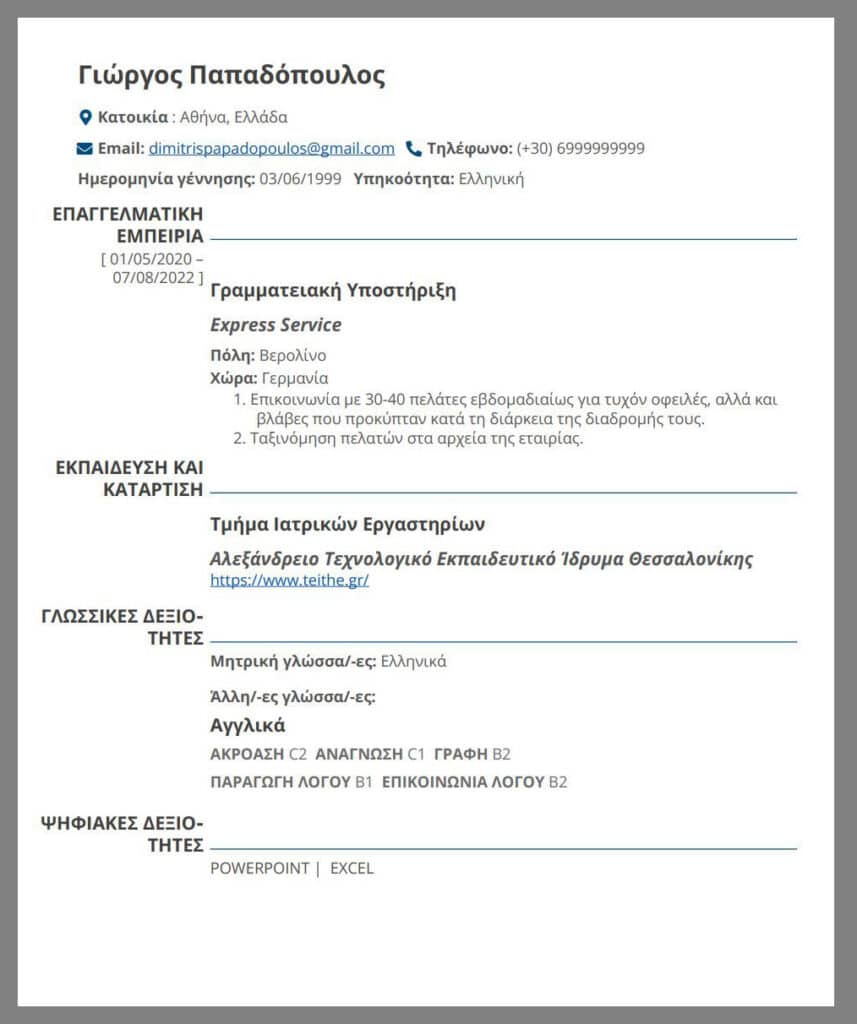 What do you think?
Is something bothering you, too? You may identify with one of the reasons below for rejecting the Europass CV.
Keep reading.
Disadvantages of Europass: 5 good reasons to avoid it.
After showing you how to make a Europass CV, here are my conclusions from the whole process and the challenges I faced along the way.
1. It's not tailored to every application you make.
It's not tailored to your profile, the needs of the position, the advertisement and the company you are applying to.
This means that when you apply for a job you may not highlight the most relevant information about the job.
Imagine if we all made a Europass CV. Which candidate of all would stand out?

2. It's not attractive.
Think of yourself as an employer. Please "Google" "europass CV example" and see the pictures.
When you open the page on Google, you will see many images with Europass biography next to each other. All the same.
Which one would you choose? Can you pick one?

3. It can end up being very large in area.
If you fill in all the fields, you may end up with a 10+ page resume.
Therefore, another disadvantage of the Europass CV format is that it can be quite long, which can make it difficult for employers to quickly find the most relevant information about a candidate.

4. Not optimal design of the web application
The website is down. There are "bugs".
It often presents technical problems. You may get lost during completion. Once your profile is completed, you will reach a dead end.
There is no "Next" or "Download Resume" button, so you have to search until you find the solution.
5. Lost space, too much "white space".
All the information was aligned along the left margin, wasting a huge horizontal space.
In short, the entire right side of the pages in the template I was editing was blank.

– Example 1: the contact information took up at least 3 lines, while using icons for name, phone number, email, etc. could be more "clustered".

– Example 2: Foreign languages. In my example I chose only 1 language and it took 5 lines on my CV evaluating 5 more features:
- Hearing
- Reading
- Writing
- Speech production
- Speech Communication
There is much more I want to say, but I don't want to lose your interest, dear reader.

So I'll stop here and hope you've figured out the "why not".

If we say OHIII on the Europass CV, what other alternatives do we have?
Alternative options for writing your CV.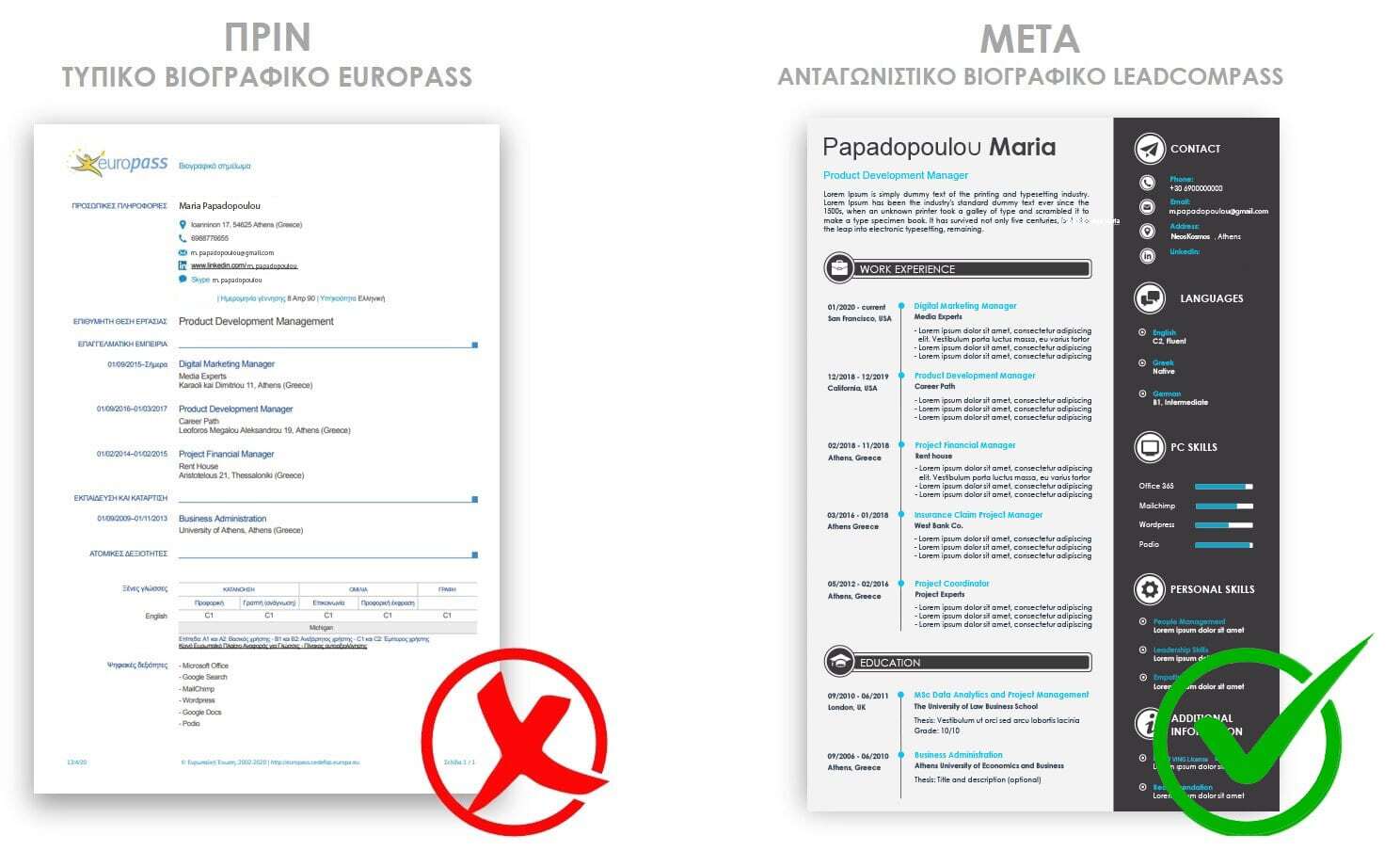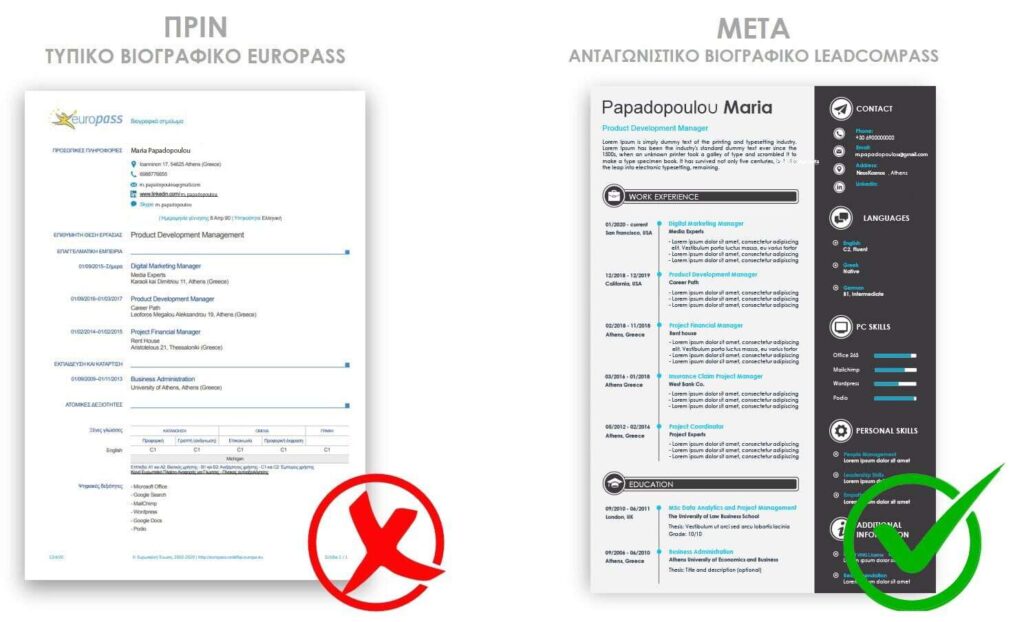 You can find free resume templates out there on various websites. You can also use, as mentioned earlier, the free Microsoft Word templates or use other online tools and cv builders for a small fee.
However, you can be sure that millions of people do the same thing and in the end your free or cheap resume template will cost you "dearly" because it will not stand out among the tens of thousands of applications your potential employer will receive for the job you are interested in.
We happen to be a resume writing agency and yes, we have a wide range of services to offer you, which, those of our clients who have used them, have won positions all over Greece and 30+ countries abroad.

How to make a resume with LeadCompass?
1. On your own, financially:
– CV templates (shop) >>
– Taped seminar on how to make a CV (online course) >>

2. With confidence and proper preparation:
– Resume services with a consultant >>
Epilogue
We hope you have a better understanding of what the Europass CV is and why it is popular among jobseekers in Greece and Europe.

Although the Europass CV is free, "everything comes at a price" as I would say in my village.

It takes a lot of care if you choose to create your CV in Europass format and sometimes a lot of luck, I would say, in terms of which employer you fall for.

For our part, as a CV writing agency, but also as professionals with many years of experience in the field of career consulting, we can assure you how many times we have seen with our own eyes, Europass CVs being rejected and not passing to the next phase.

The choice, of course, is always yours.

-
Have you used Europass before?
If so, did you qualify for the next round of interviews?
Did you get the job?
Leave a comment below.
Let's discuss.
Identity secret. I have penetrated the labour markets of Europe and America. I unearth and share with you all the secrets in the process of selecting an employee. Oh, I gotta go... My boss is calling me to zoom...