Did you know that Word gives you the ability to make the resume for free? In this article you will learn everything you need to know to make a Word resume, easily, quickly and at no cost.
The CV is the first image you will create as a candidate to potential employers and can secure your ticket to the next stage of the interview. Therefore, writing a well-crafted CV is an essential step in getting the job you want, whether you are an experienced professional or have little work experience. Fortunately, creating a resume in Microsoft Word is a simple process that can be completed in just a few steps.
Are you worried about the steps to follow?
Don't worry because in this article you will find detailed instructions on what you need to do to create a resume via Word.
Are you ready? 
Let's get started!
Compilation of a resume price: You want a resume? Leave it to us. Hire a qualified consultant!
How to make a resume in Microsoft Word: detailed instructions with screenshots!
Step 1: Choose a CV template Word
The first step in creating a resume in Word is to choose a template.
Microsoft Word offers many available resume templates that you can use as a starting point. Once you've chosen the right resume for you, you have the ability to customize every design element, such as the font format, font color, and add your own text.
To access the templates, simply click on the "File" menu and then select "New". In the search bar, type "resume" to see the list of all available templates. Choose the template that suits you best and then click "Create".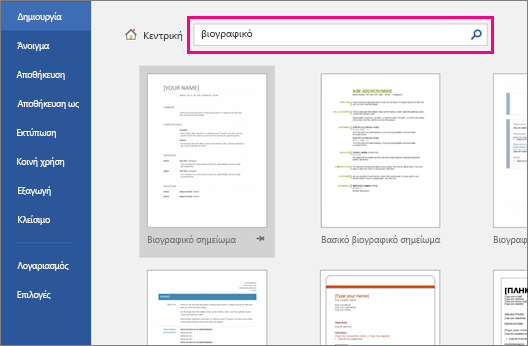 Alternatively, you can search online for "Word CV templates", which you can edit on your computer by selecting the "Download" option and opening them as if they were a Word document.
Step 2: Personalising the template Word
Once you've chosen the right template for you, it's time to personalise it to showcase your knowledge and skills. Start by replacing the existing text by filling in your own details, such as your name, address, phone number and email address.
Pay attention to the field for your address! It's best to fill in the wider area and city/country instead of your full home address.
For two reasons:
Your full address can negatively influence the recruiter as it will create the wrong impression based on the street and postcode. As a result, your chances of getting to the next stage of the interview may be limited.
For example, if you live in a high-crime area, you may automatically be considered a potential criminal. It may sound strange, but it is likely to happen.
When the distance between your home and the workplace is great, it can be considered a negative factor in rejecting your application for the job.
Then tailor the headings and bullet points of the list to showcase your own work experience and qualifications.
For example, if you have a degree in a particular field, make sure you add it to the relevant section of "Education". If you have relevant work experience, be sure to include it in the 'Work experience' section.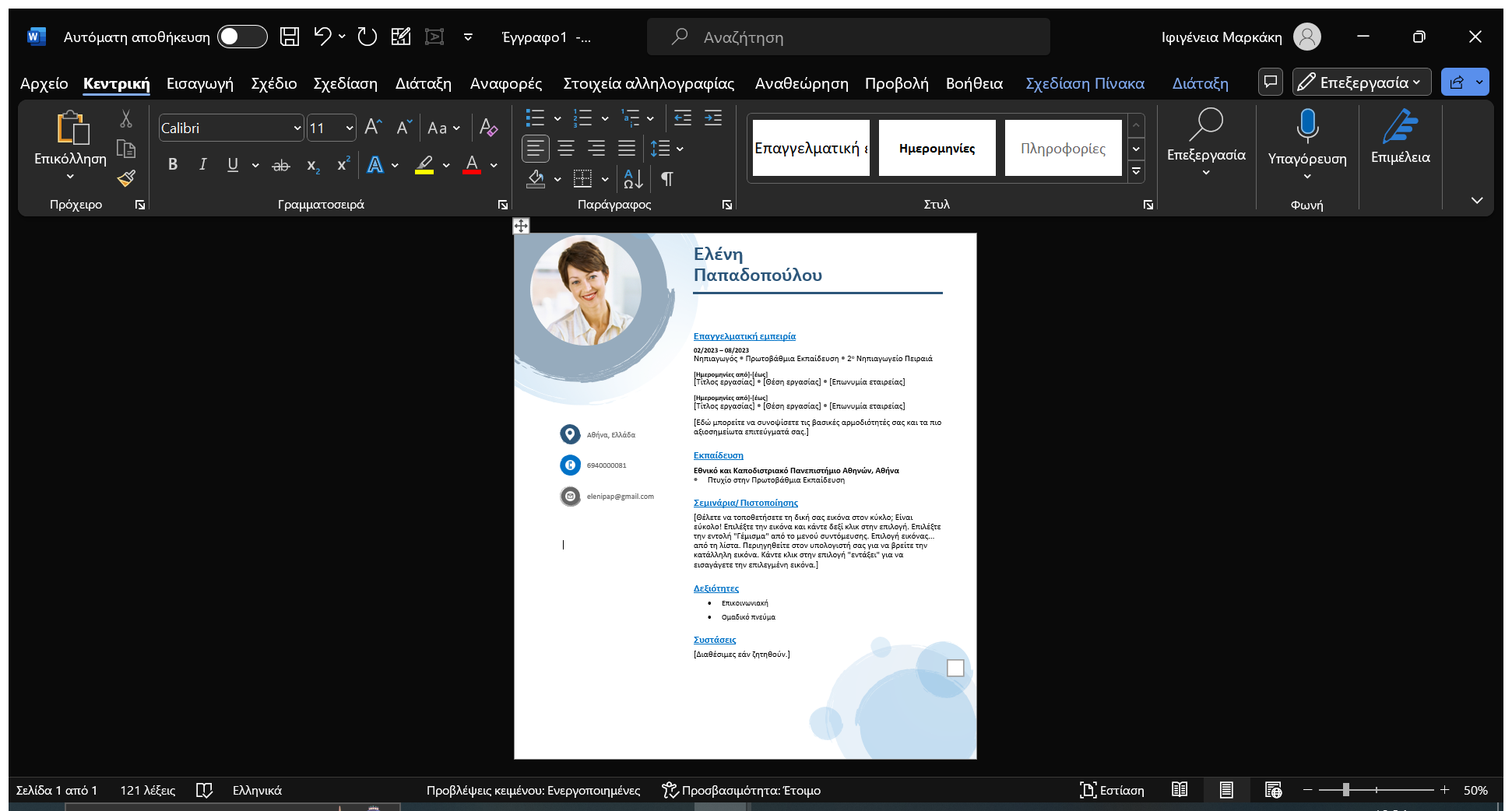 Tip: Avoid mentioning your date of birth and your nationality.
Why?
By mentioning your date of birth, you emphasise your age and it is more likely that the employer will evaluate you on that basis than on your work experience, education and skills. Essentially, the result is that you fall victim to age discrimination and trip yourself up.
Mentioning your nationality is not necessary information for your application and may create discrimination and prejudice against you.

Step 3: Customize the layout and formatting
With Microsoft Word you can adjust the font size, font style and spacing. You also have the ability to add or remove sections depending on your skills and experience.
For example, if you have acquired a number of relevant skills, you can include them in a separate section called "Skills". In case you have little work experience, you can focus on your training and the relevant courses or certifications you have taken.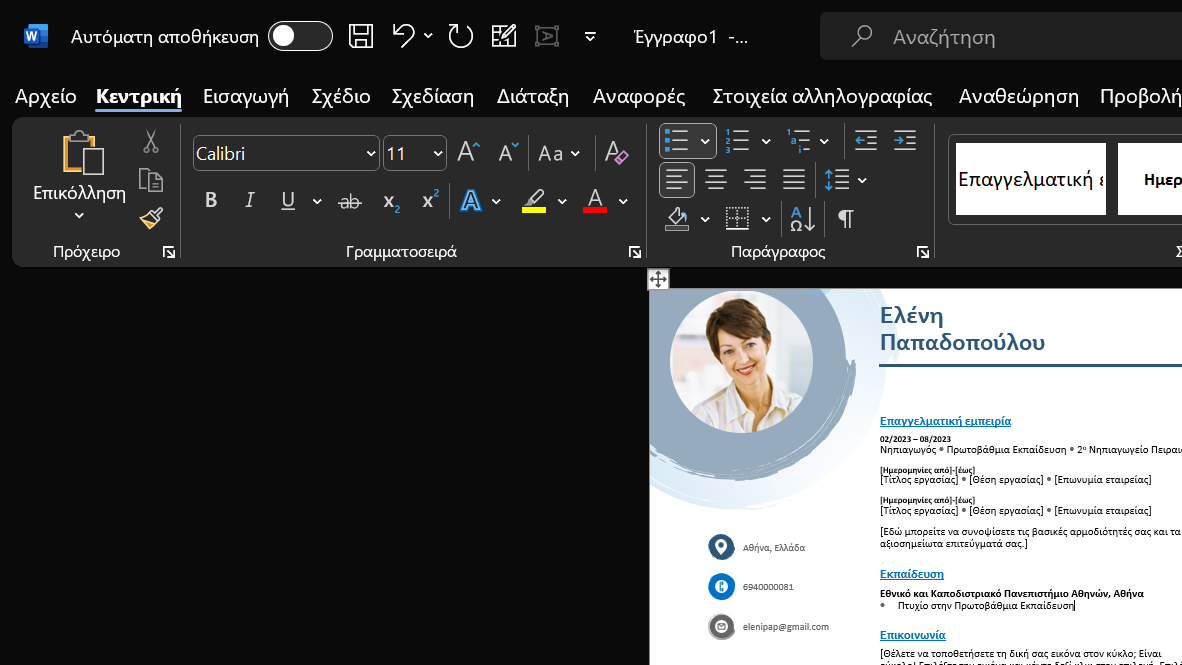 Step 4: Fix your CV
Before you send your CV, make sure you proofread it thoroughly.
This is a crucial step in the process, as mistakes can be a reason for potential employers to reject you. So, check for spelling mistakes, grammatical errors and formatting problems. Make sure your resume is legible, has a professional look and avoid bright colors.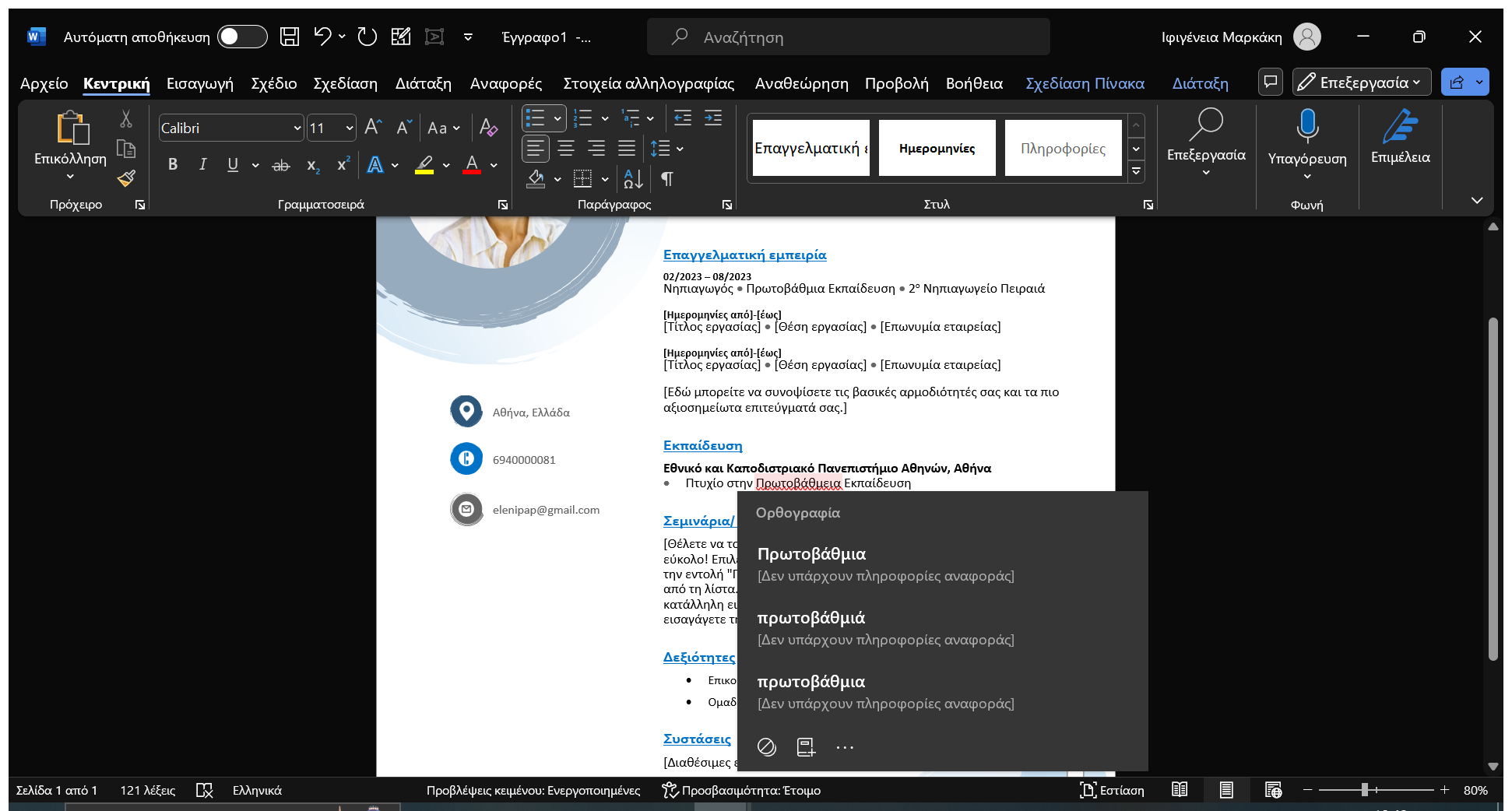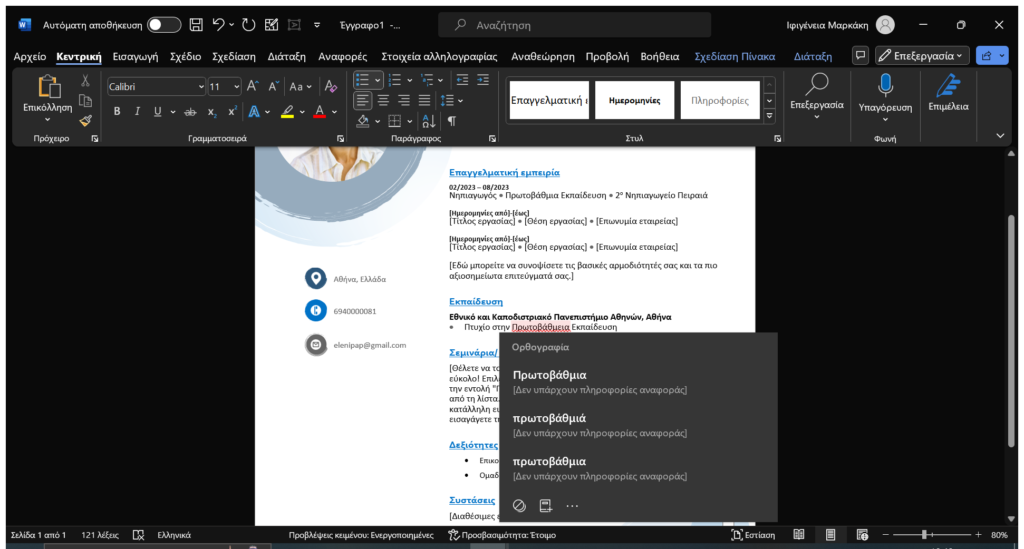 Step 5: Save and submit your CV
Once you have completed your CV and proofread it, you are ready to save it and send it to the potential employer. In Word, you can save your resume by clicking on the "File" menu and selecting "Save As".
Give your CV a descriptive file name, such as "Name Surname CV" or "Name Surname CV" and then choose to save it to your computer.
Now that you've got your resume together, I wonder if you're ready to apply for jobs?
Do you think creating a resume in Microsoft Word will help you stand out from the competition?
Free Word resume templates: are they worth it?
Although the resume templates offered by Microsoft Word are relatively easy to create (if you are familiar with the tool) and do not cost you anything, the following question arises.
Can a resume you created in Word really lead you to the job you want?
Unfortunately, thousands of people choose to create their resume with Word and as a result, your free resume will cost you "dearly", since it will not help you stand out and 99.99% you will not be able to win the job you are seeking.
Word resume writing may indeed be a convenient solution for many of us, but it comes with several disadvantages.
10 disadvantages in Word CV editing
1. Common appearance: Since these templates are available to the general public, many people use them. As a result, your resume may look similar to thousands of others (if not millions!!!) without a unique and distinctive format.
2. Formatting issues: When editing a template, it is easy to modify the formatting incorrectly. This can lead to inconsistencies in font sizes, spaces or alignment, which can make your resume look unprofessional.
3. Difficulty of adaptation: Effective CVs need to be tailored to specific jobs. Free templates often promote a one-size-fits-all approach, making it difficult to tailor your resume for each application.
4. Limited modules: Some free templates may not include modules you need or may include modules you don't need. Modifying these can be a challenge.
5. Compatibility issues: If you download a free Word resume template from the Internet and try to open it on your computer, you may encounter compatibility problems. Different versions of Microsoft Word or other software may not render your resume correctly, leading to formatting problems. In any case, we send our CV in PDF format, not Word.
6. Restricted file formats: Attention!!!! In case you didn't read carefully No.5, free templates in Word are usually saved in .docx format. Job application systems prefer PDFs, so you need to convert your resume to PDF before you send it, which can lead to problems with formatting.
7. Old-fashioned Form: Free resume templates do not always reflect the latest trends in resume design. Using an outdated template can make your resume less modern and attractive.
8. Time consuming: Although editing a template is faster than creating a CV from scratch, it can still take a lot of time, especially if you have to make significant changes to adapt it to your needs.
9. Inconsistency in appearance (Branding): If you use your CV as part of your personal brand, the limitations of free templates can make it difficult for you to maintain a consistent personal professional image across documents and platforms.
10. Lack of Creativity: A CV is your chance to showcase your creativity and unique skills. Free templates may limit your ability to create a document that is visually appealing and unique. At the very least, it's not easy.
Alternative options: If not "Word", then what?
To overcome the disadvantages of Microsoft Word, it is best to invest in a professionally designed resume template or create a resume from scratch with the guidance of a professional.
This will give you more control over the design and content, helping to create a CV that really stands out in the eyes of potential employers/recruiters.
However, there is a solution to the above problem.
At LeadCompass, as a resume writing agency, we can help you create an impressive resume to get the job you want.
We have hundreds of professional CV templates at competitive prices and offer a range of services that have led our clients to be hired for jobs all over Greece and in 30+ other countries abroad.

Yes, it's true!
See success stories here!

Final thoughts...
Choosing a Word resume template does have some advantages, such as ease of creation and zero cost, but it has a multitude of disadvantages regarding both format, appearance and customization, making them ineffective for creating a professional resume.
The most important of these is the difficulty in standing out from the competition, as a similar CV will hardly make an impression in a competitive job market.
Don't forget that your CV is the first impression you will make on employers, so investing in a carefully crafted CV demonstrates your seriousness and interest in the job.
Of course, the decision is always yours.
Weigh them up and see what will get you closer to the next step of the interview.

* This article was written by Iphigenia Markaki *