Cover letter review service
Get useful tips to help you improve your cover letter and stand out in your applications. Trust the experts for your applications.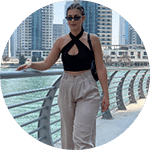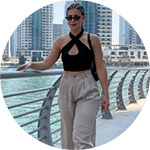 I couldn't be more pleased! Excellent work, excellent staff. Counselor Vasia Aletra was gracious and completely cooperative.
Evdokia P.
Microbiologist, MSc in Medical Genetics and Genomics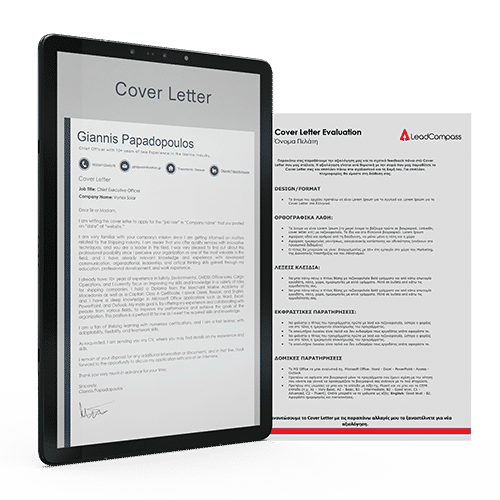 How will the evaluation of my cover letter help me?
We prepare a detailed report with valuable tips and observations to help you formulate a competitive cover letter. The review includes the following:
Your personal advisor reviews the structure of your content according to a cover letter template regarding the introductory information and flow of each paragraph.
Careful design helps you give your cover letter a professional feel, so that it catches the recruiter's attention and stands out from the crowd.
Typographical and spelling errors
As with most CVs, the same applies to cover letters. The vast majority of candidates make typographical and spelling errors and fail during the evaluation process. Our personal consultant will ensure that your cover letter is well written with no spelling mistakes.
A targeted cover letter emphasizes specific keywords to address the needs of each recruiter. Your personal consultant will help you list and present the most important keywords to include in your cover letter
Personalised content suggestions
Your personal adviser provides you with alternative content suggestions to improve your expression and target your experience in each area.
How do we evaluate your cover letter?
∆See in detail the process we follow to evaluate your cover letter.
You send us your cover letter and inform us by mail about the subject of the position you would like to work in or the postgraduate degree you are interested in. In addition, you can also send us your relevant questions or concerns on your cover letter.
Your personal adviser will study your cover letter and create a detailed report which will include the following:
Structural observations
Design proposals
Typographical and spelling errors
Suggested keywords
Personalised content suggestions
Your personal adviser sends you his assessment and expects you to implement the observations and advice he has written down. He then re-evaluates your cover letter by checking the changes you have made.
Your personal adviser sends you the final comments so that you can optimise your cover letter and start using it in your applications.
Combine the assessment of your Cover Letter with additional Professional Counselling services
Add the services you wish to receive detailed information and an offer from a qualified consultant in the form for expressing your interest.
We take care of the entire resume writing process using personalized resume templates. The most valuable tool to showcase yourself.
Useful tips on how you can shape your CV in order to become a more competitive candidate and claim the job you want.
Useful tips on how you can optimise your LinkedIn profile to compete for new jobs, seek new partnerships or grow your network.
Frequently Asked Questions (FAQ)
Who will evaluate my cover letter?
Your cover letter will be evaluated by one of LeadCompass' accredited and certified career advisors. The high quality of our consultants is guaranteed and proven by our 150+ 5-star Google and Facebook client reviews and by their satisfaction with our services reaching 99%.
How much does a cover letter assessment cost? What is the price?
The cost of evaluating a cover letter is based on its size and the volume of information our consultant is asked to evaluate. Typically, the cost most often ranges from 30€ to 60€.
How is the service paid for?
Payment for the service must be made before the date and time of the training is set. 
We have 3 different ways of repayment depending on your needs:
Deposit or Transfer of money to a Bank (Piraeus)
Payment via Revolut 
Payment via Paypal
How many days before I can receive the evaluation of my cover letter
The time required to evaluate a cover letter corresponds to the volume of information the consultant is asked to study. In most cases you will only receive our evaluation within 2-3 business days.
With successes in over 30 countries and 1,000 candidates who have won a job, we are ready to help you!
Select your ideal bundle: CV, Cover Letter, and LinkedIn bundles tailored to your work experience.
If you don't find what you need or require a custom service, submit your request for a free non-binding quote.
OTHER SERVICES FOR COVER LETTER