Professional cover letter writing service
Strengthen your application with a cover letter. Highlight the most interesting aspects of yourself and your greatest achievements.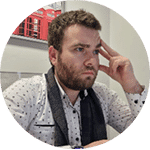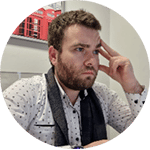 Quality service with immediate results! I highly recommend LeadCompass as they are in the most appropriate position to offer high quality benefits in the most modern competitive work environment.
Vassilis D.
business development associate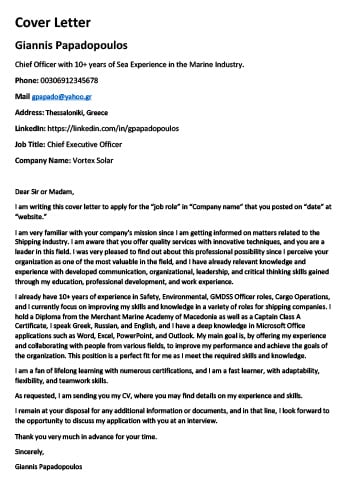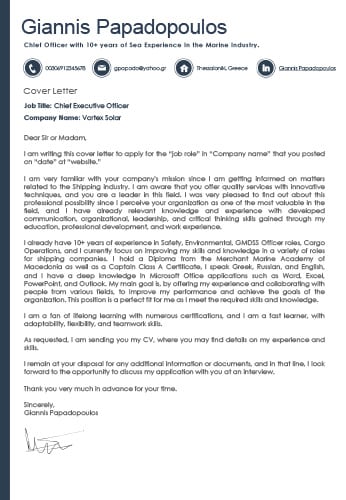 Make a difference with a memorable Cover Letter
We create your cover letter highlighting your competitive advantages to help you apply for the job you want.
General cover letter for a job
In the general cover letter we create a template tailored to your needs and skills that you can use in each application by simply changing the company you are applying to and the job you are interested in.
Targeted Job Cover Letter
The targeted cover letter addresses a specific advertisement in which we leverage your skills and experience in relation to the advertisement's requirements and the company's culture, so that you emerge as an ideal candidate and win an interview.
Cover Letter for Postgraduate Degree
The cover letter for a postgraduate degree can also take the form of an application essay, where we combine your academic performance, your achievements, your professional experiences, your goals and of course the university and the title of the postgraduate degree you are interested in.
How do we design your cover letter?
∆See in detail the process we follow to create your cover letter.
We collect the information we need by sending you a LeadCompass-specific questionnaire to your email. In turn, you send us your current resume and cover letter, if you have one, and fill in the additional information in the questionnaire. If we need additional information, your personal advisor will contact you by phone, where you discuss details and clarifications. If you want a targeted cover letter, you need to send us the advertisement or graduate degree you are interested in as well.
After we receive the answers to the questionnaire and your CV, our consultants formulate the structure and content of the cover letter and our Graphic Designers design it.
We send you a formatted cover letter in your mail and give you the opportunity to request any corrective changes or partial additions for free, so that you are 100% satisfied with the final result.
We send you the cover letter in PDF and 100% editable Microsoft PowerPoint or Word format, so that you can make additions in the future and adapt it each time according to the description of the advertisement or postgraduate course you wish to apply for.
Combine your Cover Letter with additional Professional Counselling services
Add the services you wish to receive detailed information and an offer from a qualified consultant in the form for expressing your interest.
We take care of the entire resume writing process using personalized resume templates. The most valuable tool to showcase yourself.
Create a competitive profile on LinkedIn by properly showcasing your experience, skills and knowledge. Profile content is written in English.
Training on the possibilities offered by the platform in terms of job search, professional development, networking with professionals and finding new partnerships.
Learn the secrets of interviewing by answering the most challenging questions to prepare yourself properly and get the job you want.
Simulate a real interview environment so we can thoroughly examine your answers and offer you targeted advice. The ultimate preparation!
Candidates learn only 10 to 15% of actual open jobs. Here you will learn job search techniques for Greece and abroad.
Frequently Asked Questions (FAQ)
Who can write my cover letter for me?
Once you have expressed interest, we contact you and a LeadCompass professional career consultant takes care of creating your cover letter. Throughout the process, your personal advisor is ready to assist you and answer your questions. 
To express your interest fill in the form here. Alternatively, call us at 23130 68 480 or send us your interest at info@leadcompass.gr 
How much does it cost to create a cover letter??
The cost of writing your cover letter varies and is based on the applicant's experience, the amount of information the career counselor will be asked to edit, and the date of delivery.
At LeadCompass we provide the interested party with the option to choose delivery of a Cover Letter in 10-15 working days, offering discounts up to 40% of the original value of the service.
How is payment for the service made?
Payment for the service is made before the career advisor begins planning the cover letter. 
We have 3 different ways of repayment depending on your needs:
Deposit or Transfer of money to a Bank (Piraeus)
Payment via Revolut 
Payment via Paypal
What is the difference between an evaluation and a cover letter?
In cover letter evaluation, the consultant undertakes to study an existing letter written by the candidate and give targeted advice on how to improve it.
When drafting a cover letter, the consultant undertakes both the design (design, structure, organisation) and the writing and editing of its content, so that the candidate receives it ready.
Can I edit the cover letter I receive?
The cover letter you will receive will be 100% editable in Microsoft PowerPoint or Word format depending on the template chosen. Therefore, you can make as many modifications or updates in the future as you wish at no charge.
How many days can I have my cover letter ready?
Depending on your needs, you can choose to have your cover letter delivered in 1 day, 3-5 days or 10-15 days. Speed of delivery also affects the final value of the service, so if it is not imperative that you receive your cover letter immediately, then you can secure a very good deal with delivery within 2 weeks.
With successes in over 30 countries and 1,000 candidates who have won a job, we are ready to help you!
Select your ideal bundle: CV, Cover Letter, and LinkedIn bundles tailored to your work experience.
If you don't find what you need or require a custom service, submit your request for a free non-binding quote.
OTHER SERVICES FOR COVER LETTER