Receive invaluable tips that will elevate your CV and set you apart in your applications. Entrust your CV to the experts and unlock its full potential.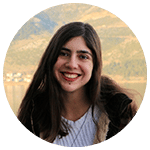 I would highly recommend LeadCompass! They helped me with the assessment and improvement of my resume. Mr. Korvesis's suggestions were targeted and he devoted due attention. They really pay attention to the details that make a difference!
Friday K.
mechanical engineer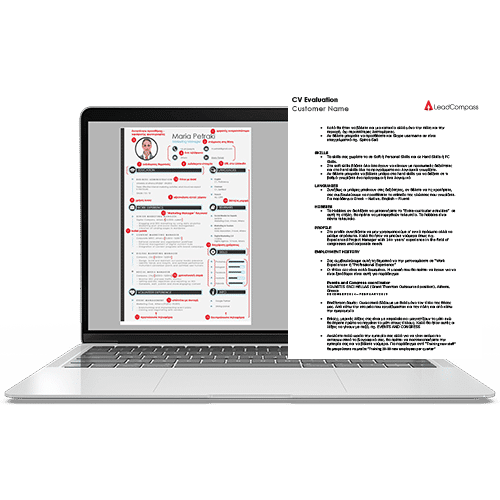 How will the assessment of my CV help me?
We prepare a detailed report with valuable tips and observations to help you build a competitive CV. The assessment includes the following:
Your personal consultant reviews the structure of your content and corrects the order of fields and presentation of information so that your CV is concise enough in 1-2 pages and ideally highlights your competitive elements.
The thoughtful design helps your CV stand out from the hundreds of CVs a recruiter usually receives and therefore takes just 7 seconds to evaluate it. 
Typographical and Spelling Errors
80-90% of the CVs have typographical or spelling errors, causing them to fail during the assessment. Our personal consultant will ensure that your resume is well written with no spelling errors.
A targeted resume emphasizes specific keywords to answer the needs of each recruiter. Your personal consultant will help you list and present the most important keywords to include in your resume.
Personalised Content Suggestions
Your personal consultant will take a closer look at each area of your CV and provide alternative content suggestions to improve your expression and describe your experience in each area.
How do we evaluate your CV?
∆See in detail the process we follow to provide you with a professional CV assessment.
You send us your CV and inform us via email about the position you would like to work in. In addition, you can also send us your relevant questions or concerns on your CV.
Your personal advisor will study your CV and go into each field individually to create a detailed report that will include the following:
Structural observations
Design proposals
Typographical and spelling errors
Suggested keywords
Expert advice and suggestions for content in each field
Your personal adviser sends you his assessment and expects you to implement the observations and advice he has written down.
It then re-evaluates your CV by checking the changes you have made.
Your personal adviser sends you the final comments to optimise your CV and start using it in your applications.
Combine Resume Evaluation with additional evaluation services
Add the services you wish to receive detailed information and an offer from a qualified consultant in the form for expressing your interest.
Useful tips on how you can optimise your LinkedIn profile to compete for new jobs, seek new partnerships or grow your network.
Evaluation of the Cover Letter
Useful tips on how to tailor your cover letter to stand out from the crowd and make a difference when applying for a job or graduate program.
Frequently Asked Questions (FAQ)
Your resume is evaluated by one of LeadCompass' recognized and certified career consultants.
The high quality of our consultants is guaranteed and proven by our 150+ 5-star customer reviews and their satisfaction with our services, which reaches 99%.
How much does a CV assessment cost? What is the price?
The cost of evaluating a CV is based on the size of the CV and the volume of information our consultant is asked to evaluate. Typically, the cost most often ranges from 45€ to 60€ with a few exceptions of professions that have multi-page CVs and require more research.
How is the payment of the CV assessment made?
Payment for the service is made prior to the start of the evaluation of the CV by the career consultant. 
We have 3 different ways of repayment depending on your needs:
Deposit or Transfer of money to a Bank (Piraeus)
Payment via Revolut 
Payment via Paypal
What is the difference between evaluation, editing and CV writing?
In the CV assessment, the consultant undertakes to study an existing CV of the candidate and give targeted advice on how to improve it.

In CV editing, the consultant undertakes to correct and improve the content of a previous CV of the candidate.
In CV writing, the consultant undertakes both the design of the CV (design, structure, organization) and the writing and editing of the content, so that the candidate receives a ready CV.
How many days does it take to evaluate my CV?
The time needed to evaluate a CV corresponds to the amount of information the consultant is asked to process.
Depending on your needs, you can choose to have your evaluation delivered in 1 day, 3-5 days or 10-15 days. The speed of delivery also affects the final value of the service, so if it is not imperative that you receive your assessment immediately, then you can secure a great deal with delivery within 2 weeks.
With successes in over 30 countries and 1,000 candidates who have won a job, we are ready to help you!
Select your ideal bundle: CV, Cover Letter, and LinkedIn bundles tailored to your work experience.
If you don't find what you need or require a custom service, submit your request for a free non-binding quote.