Your resume is the most powerful tool to showcase your abilities. Design it with a professional.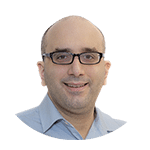 LeadCompass is excellent, they offer high quality services that are a surefire recruitment solution. My resume was selected within the 20% of the best resumes sent to a company and in the end I got the job. I highly recommend LeadCompass!
Dimitris N.
Programming - Electronics - Math Professor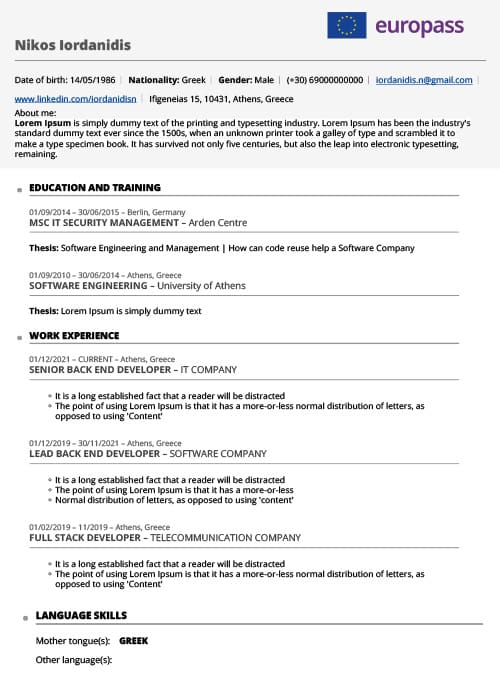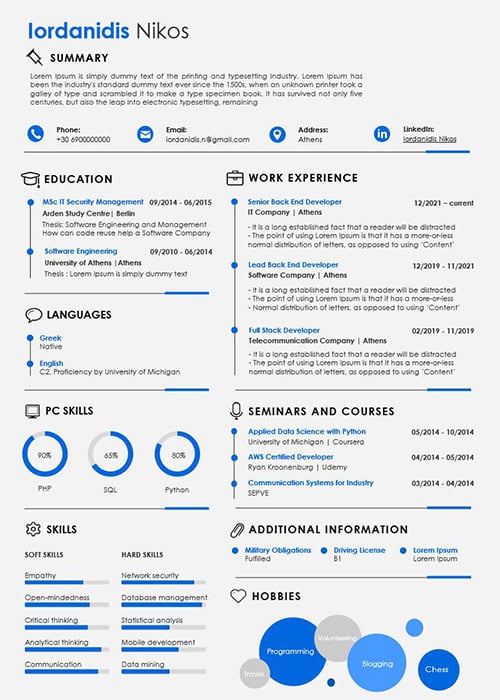 Discover a diverse range of resume options tailored to your needs - whatever type you seek, you'll find it here!
With our personalized resume templates, we expertly highlight your experience and knowledge, ensuring a perfect fit. Explore our selection of tailored resumes to find the one that best suits your needs:
We use customized resume templates designed by LeadCompass professional designers targeted to your needs and the job you want, to showcase your experience and win you the interview.
Europass Curriculum Vitae
We recommend We recommend the Europass CV, designed according to European standards, in case the job is related to public organisations or European agencies that use it as a requirement.
Academic Curriculum Vitae
Ideal CV if you are aiming to apply for a Master's - PhD degree or to work in a research field. An academic CV will enhance your academic experience making you a competitive candidate.
Curriculum Vitae Portfolio
An excellent option for professionals aiming to showcase their expertise through their CV, including achievements, accolades, diplomas, career milestones, and even multimedia content. 
You may have heard of it as an autobiographical essay or Bio. It can be short (100-300 words) or detailed (600-1000 words), and you can use it for posting on websites, social media or sending it to organizations like chambers of commerce. It is intended for Entrepreneurs, Doctors, Lawyers, Life Coaches, Career Coaches, Business Coaches, Executive Coaches, Private Sector Trainers and other disciplines.
How do we design your CV?
See in detail the process we follow to create a professional and competitive CV.
We collect the information we need by sending you a LeadCompass-specific questionnaire to your email. In case you already have a CV, you forward it to us and fill in only the additional information we ask for in the questionnaire. If we need additional information, your personal consultant will contact you by phone, where you discuss details and clarifications.
Once we receive the answers to the questionnaire, we will proceed to draft the CV in a suitable template for your subject and experience.
Your personal consultant selects one of LeadCompass' professional resume templates, designed by our Designers, and customizes the structure and content targeted to your needs.
The resume we will design for you will be ATS friendly, so that it will successfully pass the Applicant Tracking Systems programs used by major companies to evaluate resumes with keywords.
We send you your formatted CV by email and give you the opportunity to request any corrective changes or partial additions for free, so that you are 100% satisfied with the final result.
We send you the CV in 2 formats. In PDF format to use in your applications and in 100% editable Microsoft PowerPoint or Word format, so you can make additions in the future and adapt it each time according to the job description, the company and the country you are applying to.
Combine your CV with additional Professional Consulting services
Add the services you wish to receive detailed information and an offer from a qualified consultant in the form for expressing your interest.
Drafting a cover letter in a neat and uniform design based on the template of your CV. The service is provided in Greek, English and German.
Create a competitive profile on LinkedIn by properly showcasing your experience, skills and knowledge. Profile content is written in English.
Training on the possibilities offered by the platform in terms of job search, professional development, networking with professionals and finding new partnerships.
Learn the secrets of interviewing by answering the most challenging questions to prepare yourself properly and get the job you want.
Simulate a real interview environment so we can thoroughly examine your answers and offer you targeted advice. The ultimate preparation!
Candidates learn only 10 to 15% of actual open jobs. Here you will learn job search techniques for Greece and abroad.
Frequently Asked Questions (FAQ)
Who can build me a resume?
Wondering who can build your CV and where you can get it done? You're in the right place. LeadCompass is a resume writing agency operating all over Greece. After you express your interest in the form below, we contact you and a professional career consultant takes care of creating your resume.
How much does a CV cost? What is the price?
The cost of writing a CV varies depending on the experience of the candidate, the amount of information the career consultant will be asked to edit and the date of delivery. At LeadCompass we provide the interested party with the option to choose to have a CV delivered in 1, 3 or 7 working days. Express your interest and receive an immediate quote.
How is the payment of the CV made?
Payment for the service is made before the career consultant starts planning the CV. 

We have 3 different ways of repayment depending on your needs:
Deposit or Transfer of money to a Bank (Piraeus)
Payment via Revolut 
Payment via Paypal
In how many days can I receive my CV ready?
At LeadCompass we provide the interested party with the option to choose delivery of the CV in 1, 3 or 7 working days. 
Can I edit the CV I receive?
The CV you will receive will be 100% editable in Microsoft PowerPoint or Word format depending on the template chosen. Therefore, you can make as many modifications or updates in the future as you wish at no charge.
Can changes be made after I receive my CV?
The answer is of course! First of all, we offer each of our clients the possibility to make free changes and corrections to their CV within 15 days of its delivery.
In addition, we also offer you your CV in an editable Microsoft PowerPoint or Word format, so you can make changes in the future if you want to.
Finally, if you want sometime in the future to update your CV by adding new information and experiences then the cost ranges from 15€ to 25€ depending on the volume of information.
What is the difference between evaluation, editing and CV writing?
In the CV assessment, the consultant undertakes to study an existing CV of the candidate and give targeted advice on how to improve it.

In CV editing, the consultant undertakes to correct and improve the content of a previous CV of the candidate.
In CV writing, the consultant undertakes both the design of the CV (design, structure, organization) and the writing and editing of the content, so that the candidate receives a ready CV.
I can choose my own CV template
You can choose from dozens of customized templates created by LeadCompass designers. Then, the career consultant is tasked with tailoring it to your requirements to showcase your skills and experience. There is no extra charge for choosing the CV template as it is included in the price of the service.
In case you wish to receive your CV in a different template than the one offered by LeadCompass, then we will prepare a financial offer that we are sure you will not be able to refuse.
With the right preparation & CV preparation you can definitely find a job;
LeadCompass is not a recruitment agency. Our goal is to give our clients all the necessary tools (Resume, LinkedIn, Cover Letter, Interview, Counseling) to prepare them and help them pursue the career they desire.
However, due to the large network we have in all business sectors, we make sure to promote to employers candidates we have prepared at no extra cost to our clients.
With successes in over 30 countries and 1,000 candidates who have won a job, we are ready to help you!
CV WRITING SERVICE PRICES
Rising Star
ENTRY-LEVEL
​0-1 Years of Experience
Expertly crafted CV tailored to your industry

Optimized for ATS using targeted keywords
Executive Trailblazer
EXECUTIVE (C-LEVEL)
​16-29 Years of Experience
Expertly crafted CV tailored to your industry

Optimized for ATS using targeted keywords
Career Accelerator
INTERMEDIATE-LEVEL
​2-6 Years of Experience
Expertly crafted CV tailored to your industry

Optimized for ATS using targeted keywords
Industry Luminary
EXECUTIVE (C-LEVEL)
​30+ Years of Experience
Expertly crafted CV tailored to your industry

Optimized for ATS using targeted keywords
Leadership Navigator
FIRST/MIDDLE-LEVEL
​7-15 Years of Experience
Expertly crafted CV tailored to your industry

Optimized for ATS using targeted keywords
*Academic and MedPro*
A premium service catering to all
education and healthcare professionals.
Expertly crafted CV tailored to your industry

Optimized for ATS using targeted keywords