LinkedIn profile optimization service
Elevate your LinkedIn Profile: Showcase your experience and expertise with our professional assistance. Entrust your LinkedIn presence to the experts.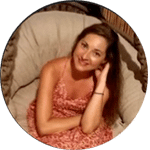 I highly recommend Marco and his team if you want to optimize your LinkedIn profile to the fullest. He is a true professional and an experienced career advisor. He will answer any questions you may have and advise you on how to get your dream job. Thank you so much for your support.
Helen B.
Reservations Manager - Hospitality Management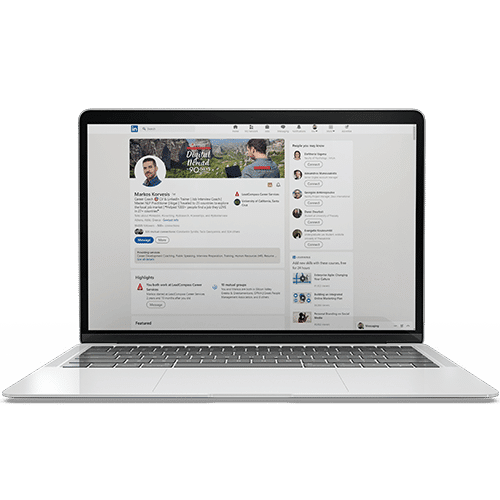 How can you help me create a LinkedIn profile?
We take care of the entire creation and configuration of your LinkedIn account in English. We make sure to compile a competitive profile that meets your needs.
Account creation and settings
Your personal advisor creates your LinkedIn account with your contact details and configures your account settings according to recognised standards. He or she then notifies you to change your password.
Targeted title and introductory paragraph
We compose a targeted headline and an introductory paragraph that describe your competitive advantages and help you to appear in recruiters' searches.
Drafting and editing of texts
We take care of the professional compilation of all the content of your profile, from your education and professional experience to your certifications, skills and possible distinctions.
We research and use keywords that are in demand in your industry and subject area to answer the needs of each recruiter who evaluates your profile. 
Use of photographic material and links
We add photo material and links in every field that we can in order to better present your experience and to make your profile stand out. 
Research and adding skills
We add to your profile all the skills required based on your subject, needs and skills, so that your network can endorse you and you can be more targeted in the recruiters' candidate search tools.
How do we create or optimize your LinkedIn?
∆See in detail the process we follow to get a competitive profile on LinkedIn.
We collect the information we need for your LinkedIn by sending a customized LeadCompass questionnaire to your email. In case you already have a resume, you forward it to us and fill in only the additional information we ask for in the questionnaire. In addition, you send us a profile photo and any photographic material you have that relates to your CV.
If we need additional information, your personal advisor will contact you by phone to discuss details and clarifications.
Once we receive the answers to the questionnaire along with your profile picture and possible photo material, we will proceed to create and configure your LinkedIn.
If you have a LinkedIn account we need an additional login email & password.
We send you the codes with the formatted LinkedIn and give you the opportunity to request any corrective changes or partial additions for free, so you are 100% satisfied with the final result.
After completing the finalization of your profile, we inform you that it is now ready for use and we ask you to change the initial passwords so that only you know them.
Now you're ready to discover the countless possibilities of LinkedIn!
Combine LinkedIn Creation with additional Professional Consulting services
Add the services you wish to receive detailed information and an offer from a qualified consultant in the form for expressing your interest.
Training on the possibilities offered by the platform in terms of job search, professional development, networking with professionals and finding new partnerships.
We take care of the entire resume writing process using personalized resume templates. The most valuable tool to showcase yourself.
Drafting a cover letter in a neat and uniform design based on the template of your CV. The service is provided in Greek, English and German.
Candidates learn only 10 to 15% of actual open jobs. Here you will learn job search techniques for Greece and abroad.
Frequently Asked Questions (FAQ)
Who will create my LinkedIn profile?
After you express interest, we contact you and a LeadCompass professional career consultant takes care of creating and configuring your account.
How much does it cost to create a LinkedIn profile?
The cost to create a LinkedIn profile is calculated based on the volume of information the consultant is asked to curate. To receive a quote please complete the interest form or contact us at 2313068480 / info@leadcompass.gr
How is the payment of the CV assessment made?
Payment for the service is made before the career advisor creates the LinkedIn profile. 
We have 3 different ways of repayment depending on your needs:
Deposit or Transfer of money to a Bank (Piraeus)
Payment via Revolut 
Payment via Paypal
What's the difference between creation, evaluation and training services in using LinkedIn?
When creating your LinkedIn profile, your personal advisor will handle both the opening of your account and the configuration of your entire profile in order to deliver it ready to use.
In the LinkedIn assessment, your personal advisor will deliver a detailed report with useful tips and targeted interventions to an existing LinkedIn profile you already have, in order to optimize it and make it more competitive.
In LinkedIn training, your personal advisor will provide you with personalised training on the features and tools of LinkedIn so that you can take advantage of growth opportunities, network and find work.
In how many days will I receive my LinkedIn profile?
Depending on your needs, you can choose to have your LinkedIn profile delivered in 1 day, 3-5 days or 10-15 days. Speed in delivery also affects the final value of the service, so if it's not imperative to receive your LinkedIn immediately, then you can secure a great deal on delivery within 2 weeks.
With successes in over 30 countries and 1,000 candidates who have won a job, we are ready to help you!
Select your ideal bundle: CV, Cover Letter, and LinkedIn bundles tailored to your work experience.
If you don't find what you need or require a custom service, submit your request for a free non-binding quote.
OTHER SERVICES FOR LINKEDIN