LinkedIn profile Mastery Training
Educate yourself on the tools and capabilities of LinkedIn to make the most of the growth, networking and job opportunities it offers. Trust your LinkedIn to the experts.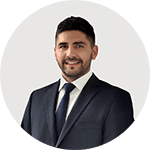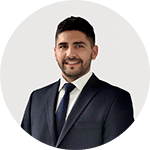 Mark is an excellent Career Advisor and LinkedIn Coach professional. His guidance and amazing advice helped me create a modern, up-to-date resume and LinkedIn Profile. His ability to explain everything so clearly made me fully understand how the job market in Greece works.
Apostolos T.
Business Developer & Partnerships Manager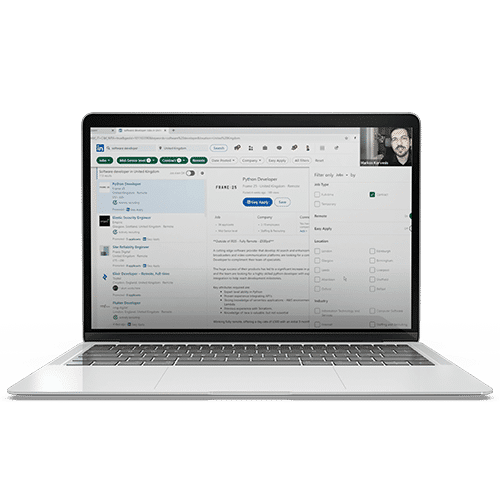 How will the training help me in using LinkedIn?
Through a 120-150 minute call, a certified career consultant will train you on how to use LinkedIn focusing on the following important topics:
How do I apply to job ads on LinkedIn?
Valuable tips that will help you learn how to search for targeted jobs on LinkedIn and how to submit applications to each job posting to stand out from the crowd.
How do I use LinkedIn for networking?
You will learn all the secrets on how to grow your professional network on LinkedIn to meet mentors, HR managers, recruiters and other professionals to exchange knowledge, make partnerships and compete for jobs.
How I strengthen my Personal Brand through LinkedIn
You will learn about all the LinkedIn tools through which you can enhance your professional image (Personal Brand). In this context, you will be taught methodologies that will help you to raise the potential of your profile.
Why is Search Engine Optimization important?
In this topic you will learn which are the fields of LinkedIn and how to use them correctly from the perspective of SEO - Search Engine Optimization, so that other users can find you with the right Keywords.
What content strategy are you using?
In this topic you learn how to use LinkedIn for though leadership (content strategy). Suggested posting schedule, tips for better performance and mistakes to avoid in order to increase the impact of your posts.
Get the LinkedIn Guide - eBook for free after the training
In the ebook you will find useful tips and guidelines for managing your personal LinkedIn profile.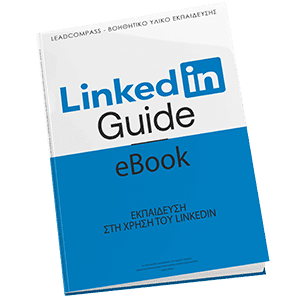 How do we train you to use your LinkedIn?
∆See in detail the process we follow to get a competitive profile on LinkedIn.
You fill in the interest form and immediately a LeadCompass representative will contact you to inform you about the program and the value of the training. 
Once you have made the payment for the programme, you determine in cooperation with your personal career advisor the available date and time to conduct the training.
The training is one-on-one and takes the form of an online video call using zoom. In case you wish to use a different video calling application we also have Skype, Viber, WhatsApp, Hangouts and Messenger available.
You conduct the 120-150 minute training with your personal advisor at the date and time you have set.
✱ There is the possibility of group training if you are more people. Depending on the number of people participating a preferential price is set.
After the training you will receive a detailed ebook with useful tips for managing your personal Linkedin profile. In addition, you will be given the opportunity to contact your personal advisor to resolve any questions that may arise during the first 3 months of using the platform.
Combine LinkedIn Training with additional Career Counseling services
Add the services you wish to receive detailed information and an offer from a qualified consultant in the form for expressing your interest.
Compilation of Curriculum Vitae
We take care of the entire resume writing process using personalized resume templates. The most valuable tool to showcase yourself.
Candidates learn only 10 to 15% of actual open jobs. Here you will learn job search techniques for Greece and abroad.
Frequently Asked Questions (FAQ)
Who will train me to use LinkedIn?
Your training in the use of LinkedIn will be conducted by Mr. Markos Korvesis Career Coach of LeadCompass and Master NLP Practitioner. 
How much does it cost to learn how to use LinkedIn??
Cost of service for 1 person and realization of the training in 10-15 days from the day of payment: 180€
Cost of service for 2+ persons and realization of the training in 10-15 days from the day of payment: 120€ / person
How is the training paid for?
Payment for the service must be made before the date and time of the training is set. 
We have 3 different ways of repayment depending on your needs:
Deposit or Transfer of money to a Bank (Piraeus)
Payment via Revolut 
Payment via Paypal
What's the difference between creation, evaluation and training services in using LinkedIn?
When creating your LinkedIn profile, your personal advisor will handle both the opening of your account and the configuration of your entire profile in order to deliver it ready to use.
In the LinkedIn assessment, your personal advisor will deliver a detailed report with useful tips and targeted interventions to an existing LinkedIn profile you already have, in order to optimize it and make it more competitive.
In LinkedIn training, your personal advisor will provide you with personalised training on the features and tools of LinkedIn so that you can take advantage of growth opportunities, network and find work.
With successes in over 30 countries and 1,000 candidates who have won a job, we are ready to help you!
Select your ideal bundle: CV, Cover Letter, and LinkedIn bundles tailored to your work experience.
If you don't find what you need or require a custom service, submit your request for a free non-binding quote.
OTHER SERVICES FOR LINKEDIN